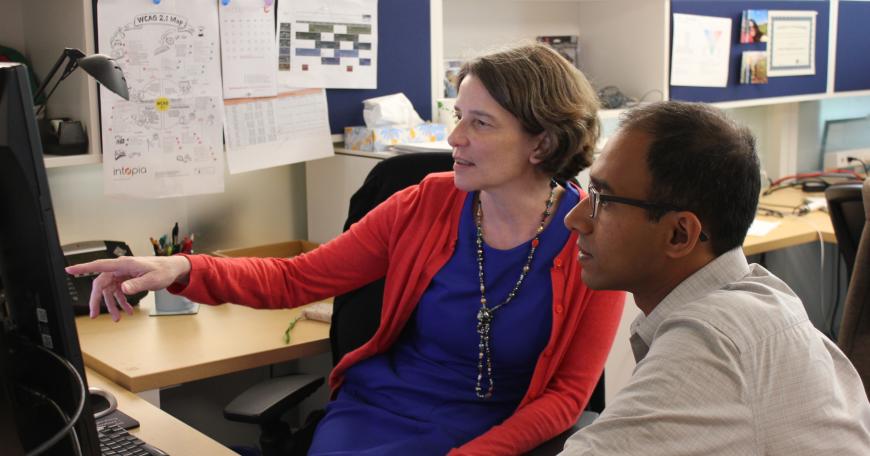 Improving accessibility in MOOCs
A conversation with Mary Ziegler, online accessibility program manager for MITx
As Online Accessibility Program Manager for MITx, Mary Ziegler is dedicated to facilitating access to massive open online courses (MOOCs) from MIT for learners with disabilities — an important role that seamlessly aligns with the mission of Open Learning.
Putting accessibility upfront
Since she joined MITx in 2015, Ziegler's vision has been to integrate accessibility into every step of designing and launching an open, online course. 
Accessibility considers how each learner navigates and participates in digital learning environments. For example, a deaf learner engages with video by reading the captions rather than listening to the audio.  "When we build elements like captions, image description, and various forms of learning into our course curriculum, she says, "we set up our courses to meet many learners' needs."  
To put accessibility upfront, Ziegler integrates these practices into the MITx course development process, which guide faculty and course teams in curriculum development. She's quick to note that this is a collaborative effort. "When we guide MITx course staff to think about accessible pathways and formats learners need, they incorporate them into their course in effective ways," Ziegler said. "It's very rewarding to see the results."
A bridge for all learners
Because inclusive instructional design doesn't always translate into a sufficiently accessible experience, Ziegler's program includes a second component: a process for learners with disabilities to request accommodations. 
"Sometimes we hear from learners that we may need to improve accessibility, or that they may need more than our platform currently provides," Ziegler says. "This presents an opportunity to improve access for learners." 
The MITx accommodation process is interactive and individualized, focusing on a learner's specific barriers and needs and what our learning environment can provide to bridge the gaps. 
Since implementing the accessibility program in 2016, MITx has received 122 requests from 67 unique learners. Compared to more than 3.76 million unique individuals who've enrolled in an MITx course, these numbers may seem low. But Ziegler notes that this small number of requests suggests that most people with a disability are finding MITx courses accessible – or perhaps have not ventured to try them yet.  
She wants to hear from more learners. "It's to everyone's benefit to provide a process for individuals because of the fact that we do learn from it," Ziegler says. "Every time a learner comes forward, there's a learning that takes place for me—for the academic team."
Sharing the improvements widely
"When it comes to content, I try to make sure that whatever we decide we can implement to improve access for an individual ends up back in the course for everyone," Ziegler adds. 
For example, when a learner in 7.00x Introduction to Biology - The Secret of Life struggled to decipher the course color palette, the design team experimented with different colors and added symbols as identifiers to improve the content's readability. One student coming forward  improved an aspect of the course to benefit all learners. 
For Ziegler, this ability to share the results of the accessibility program with all MITx learners is "the great value of 'open'." It aligns with the inclusive missions of MITx and MIT Open Learning: expanding access to quality educational opportunities worldwide – opportunities for all, including learners with disabilities.  
Recently, a learner shared this with Ziegler: "I am quite relieved to learn that your role and office are in place and appreciate your responsiveness and attention to detail. It's a breath of fresh air." Ziegler says: "This kind of feedback is so motivating to me and reflects how progress occurs in accessibility – one detail at a time."