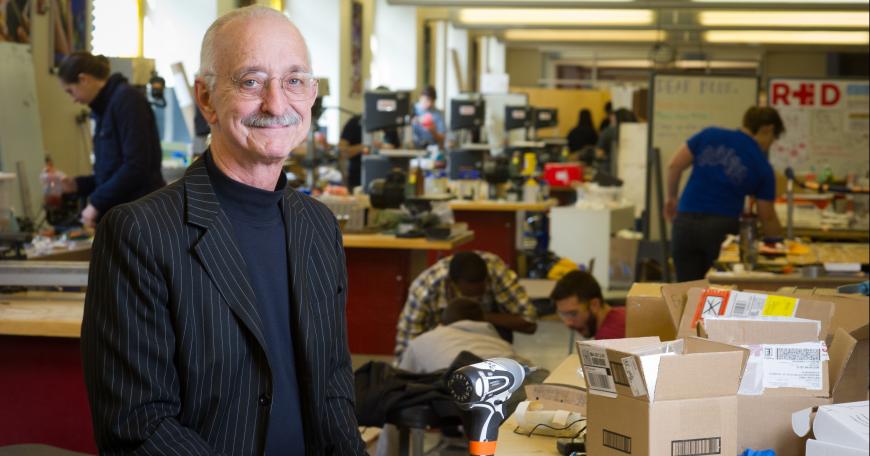 MIT Open Learning remembers Professor Emeritus Woodie Flowers
As a mentor, friend, and faculty advisor, Professor Flowers helped push Open Learning's understanding of what online learning could be and what education really means  
All students need to be students of learning. Woodie Flowers SM '68, MEng '71, PhD '73, the Pappalardo Professor Emeritus of Mechanical Engineering who passed away on Oct. 11, shared this wisdom with a room of MIT students in his keynote address at last year's Festival of Learning. Rather than an innate process, learning is something we all must learn to do, and Flowers understood that education requires our continued innovation. 
Early in his time as an MIT faculty member this philosophy of education led Flowers to pioneer a new hands-on learning approach for course 2.70 (now 2.007 Design & Manufacturing 1). Now an annual tradition, his design competition changed how engineering design was taught for undergraduate students at MIT, some of whom would go on to become educators themselves. Vice President for Open Learning and Professor of Mechanical Engineering Sanjay Sarma, for whom Flowers was a personal mentor, reflects, "He taught a whole generation of mechanical engineering faculty at MIT the power and importance of student engagement. I think several of us owe our approaches to this charismatic icon."
Throughout his career Flowers sought to use this style of active learning to inspire young people within and beyond MIT to discover their own capacity to learn and participate in science and engineering. Flowers' legacy in project-based learning is seen most notably in the annual FIRST Robotics Competition. Co-founded by Flowers, the competition brings together tens of thousands of teams of K-12 students from around the world each year to create robots through mentorship, collaboration, and Flowers' signature notion of gracious professionalism. In a 2014 talk Flowers underscored the importance of community to the learning process, saying "FIRST is not about fancy robots. The robot is the campfire around which the tribe gathers." 
A gentle iconoclast
From Open Learning's earliest endeavours―before we even bore the name Open Learning―Flowers saw the potential of online education to be a powerful tool that could transform learning. He was generous with his ideas about education, and his insights helped set the course for MITx and the residential MITx platform. In early conversations about the direction MITx should take Flowers encouraged Sarma―then dean for digital learning―and others to develop a strategy for adopting MITx on campus. Today 99% of MIT undergraduate students have taken a course that uses MITx tools. 
Professor Hazel Sive, who served with Flowers on the MITx Faculty Advisory Committee, which she now chairs, affectionately remembers Flowers as a "gentle iconoclast." He pushed the committee to consider big questions about what they could do with online learning and why they were doing it. "I think he hoped that if done right, digital learning could take students to a greater depth of education," she remembers. In one note to Sive about education, Flowers wrote, "We are tip-toeing where stomping is needed." That type of big thinking was emblematic of who he was, Sive said. 
A legacy in Open Learning 
Many of the values Flowers championed as an educator and educational theorist―immersive learning, iteration, and mentorship―are key elements of MIT's pedagogy. Like Flowers, Open Learning strives to share these fundamental practices not just at MIT but with learners around the world through our online offerings and a growing body of educational research and undertakings. Over the years, Flowers' encouragement helped guide not only MITx, but ideas that would inform MIT xPRO and Open Learning efforts to research and apply virtual and augmented reality (VR/AR) to understand learning. 
As we mourn the passing of Professor Flowers, Open Learning will continue to draw inspiration from his example of educational integrity, profound kindness, and belief that we can fix the immense challenges facing education today through creative innovation and by stretching the bounds of what exists in education.
Listen to Flowers' keynote talks on "Nerd Epistemology" from the 2018 Festival of Learning at MIT and "The Essence of MIT Education" from the October 2017 J-WEL Week.