Open Learning Talks: Shaping the Work of the Future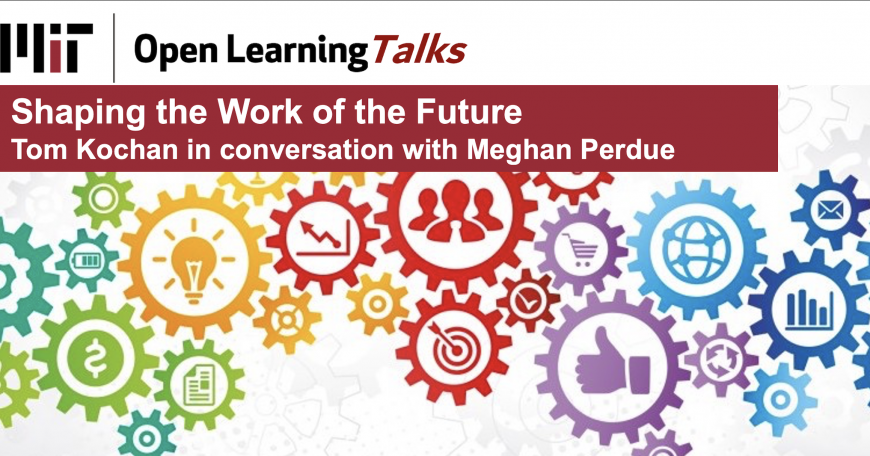 Zoom link: https://mit.zoom.us/j/92292672514
Professor Tom Kochan's MITx course Shaping the Work of the Future reached tens of thousands of learners during its six-year run. Throughout that time, rapid changes in the workplace due to evolving technologies, geopolitics, and globalization meant that the course needed to be updated continually—and Professor Kochan found himself learning as much from the learners as they did from him. 
In this talk, Professor Kochan will share stories, insights, and lessons from Shaping the Future of Work. Host Meghan Perdue, a Digital Learning Lab scientist who worked with Professor Kochan on the course since 2019, will offer her perspective on the challenges and opportunities of keeping such a timely and important course up to date. She and Professor Kochan will discuss how teaching the course to a large audience beyond the walls of MIT influenced his approach to teaching in the classroom; how the learners have carried lessons from the course into their own workplaces and careers; how the course contributed to the new edition of Kochan's book, Shaping the Work of the Future; and more. 
This talk is free and open to the public, and will be livestreamed via Zoom.
Twitter: #OLTalks
Bios:
Thomas Kochan is the George Maverick Bunker Professor of Management and a Professor Post-Tenure of Work and Employment Research at the MIT Sloan School of Management.
Kochan focuses on the need to update America's work and employment policies, institutions, and practices to catch up with a changing workforce and economy. His recent work calls attention to the challenges facing working families in meeting their responsibilities at work, at home, and in their communities. Through empirical research, he demonstrates that fundamental changes in the quality of employee and labor-management relations are needed to address America's critical problems in industries ranging from healthcare to airlines to manufacturing.
Kochan holds a BBA in personnel management as well as an MS and a PhD in industrial relations from the University of Wisconsin. 
Meghan Perdue is a Digital Learning Scientist (School of Humanities, Arts, and Social Sciences) at the MITx Digital Learning Lab. She works with MIT faculty to create online courses and digital learning tools, and research best practices in online pedagogy. She is also engaged in research and consulting projects that seek to understand how online education is changing the landscape of workforce training and lifelong learning, and what are the emerging best practices in online and blended learning at scale. She has a BA in international studies from the University of Oklahoma, an MA in political science from Harvard University, and is working on her EdD from Northeastern University. 
Open Learning Talks bring together leaders in learning to discuss new research-based ideas, technologies, and efforts in education, at MIT and around the world. See past and upcoming events in this series.