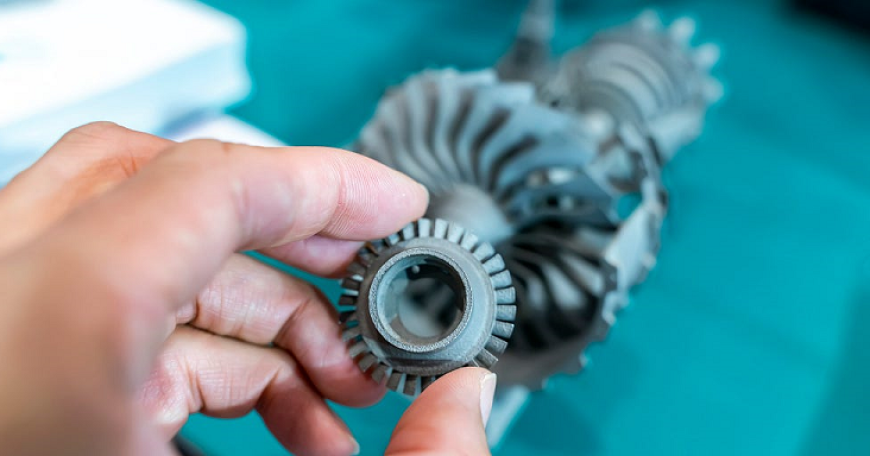 Ask an MIT professor: What is additive manufacturing and why is it important?
How 3D printing unlocks freedom and flexibility in design and operations
By: MIT xPRO
Additive manufacturing (also known as 3D printing) is transforming how products are designed, produced, and serviced, offering breakthrough performance and unparalleled flexibility across industries. However, as with many innovative technologies, knowledge is one of the greatest barriers to broader adoption.
We had the opportunity to speak with Professor John Hart, lead instructor of MIT xPRO's additive manufacturing course, about how forward-thinking organizations are using additive manufacturing to drive innovation and what to expect from his course.
What is additive manufacturing?
Professor Hart acknowledges that "additive manufacturing" and "3D printing" are used interchangeably but notes distinctions between the two.
"Additive manufacturing is the process of building physical parts and products from digital data," says Professor Hart. "Increasingly, it describes an ecosystem of technologies and knowledge that allow one to digitally produce physical goods." In this context, 3D printing is the process used to form the object, and a 3D printer is a machine that builds the part.
He stresses that the learners who take his course benefit not only from learning what additive manufacturing is and how 3D printing works but also-more importantly-how they can leverage this technology to drive innovation in their organizations. "At the end of the day, it's not necessarily about the fact that something is 3D printed but that you've developed an efficient and effective way to create a useful product," says Professor Hart.
He notes that in the early days, 20–30 years ago, 3D printing was a bespoke prototyping technology because it was difficult to access and 3D printed parts didn't have useful properties. However, in recent years, 3D printing has proven to be a viable production technique.
Professor Hart explains that to gain the most value from 3D printing, organizations must consider integrating it with production workflows, factory systems, and design processes. "It must ultimately be capable of making better products," he adds. "Because it's a digital-first process, it opens up new degrees of freedom and flexibility in design and operations. That's the real power of it."
For example, if an organization is re-imagining how a product is made, there is always a starting point. If additive manufacturing is the starting point (i.e., how the product is first formed), the next step is determining the other complementary pieces needed to facilitate that new process.
Who can benefit from taking an additive manufacturing course?
According to Professor Hart, learners who take his course come from a wide range of job functions and industries, and their experience with additive manufacturing varies.
The majority of learners are engineers (e.g., design engineers, product engineers, manufacturing engineers), but there are also procurement and supply chain professionals, managers, directors, and C-suite executives. Many are in the business of building complex products (e.g., airplanes, consumer electronics, cars), and some are entrepreneurs.
Professor Hart explains that there is such a breadth of participants because there are so many applications of additive manufacturing and because the product touches so many different industries and spans the product life cycle.
Enroll in MIT xPRO's Additive Manufacturing for Innovative Design and Production course today.
How is 3D printing applied across industries?
"In our foreseeable future, it's not likely we're going to look around and see that everything is 3D printed," says Professor Hart. "But we'll probably be able to say that a lot of the products we use have been touched by 3D printing in some way, whether it's via prototyping, volume production, or the development of tooling."
He notes that LEGO, for example, uses 3D printing to make some of the mold tools they use to manufacture LEGO bricks. Similarly, 3D printing is increasingly used to repair jet engine components or provide spare parts for physical assets that last a long time in the field, such as construction equipment.
Some companies are taking a more full-stack approach to leverage additive manufacturing, designing sophisticated new products that use the technology as much as possible. For example, a company might take a jet engine design and decide to 3D print as much of the engine as possible. "That's a cycle of re-engineering, re-designing, and re-architecting a supply chain based on the fundamental capabilities of additive manufacturing," says Professor Hart.
How do you teach additive manufacturing to people with a wide range of experience levels?
Because Professor Hart's course attracts learners with varying experience levels, some may wonder how the same course can provide value to additive manufacturing novices and veterans alike.
Professor Hart stresses that the course is relevant to all experience levels because there are so many topics to cover; in other words, there is something for everyone. "Some people have worked in the field for 10 years but aren't current with the latest technologies. Some have technical expertise in one area, such as 3D printing with polymers, but want to learn about metals. Some are skilled engineers who want to know about the business implications. Some are more business-oriented and want to be able to speak the same language as their technology teams."
The course is structured into three segments:
The first part of the course teaches an introduction to additive manufacturing via an overview of key processes, materials, and applications in several industries.
The second part of the course focuses on approaches for designing new parts for 3D printing, combining technical fundamentals with the use of advanced software.
The third part of the course addresses the business and operations side of additive manufacturing, including how to model cost and value. Each learner develops a case study, applying and expanding the knowledge they've gained throughout the course.
What pedagogical tools and techniques do you use when teaching this course?
Professor Hart relies on several tools and techniques to facilitate effective teaching and learning of additive manufacturing:
Sharing practical examples of additive manufacturing across industries and use cases
Interviews with industry leaders in technical and non-technical roles
Examining high-quality videos and images of 3D printed components
Office hours with Professor Hart and Community Teach Assistants
Opportunities for peer-to-peer learning, feedback, and topic discussions
What feedback do you receive from students who have taken the course?
"We've had more than 7,500 people take this course from hundreds of companies large and small, and the #1 piece of feedback we receive is that participants feel they gained useful knowledge that they can apply in current or future roles," says Professor Hart.
He adds that some people take the course out of curiosity and personal interest, some are asked by their organization to understand more about additive technology, and some are interested in pursuing new opportunities inside or outside their organization. In all cases, they express appreciation for the actionable knowledge and understanding they gain.
What are some of the highlights of teaching this course?
Professor Hart easily lists what he loves about teaching MIT xPRO's additive manufacturing course:
Engaging with the learners and understanding how they are interested in this fast-moving space
Learning from other experts who work with his team in teaching the course and contributing content and materials
Knowing he has made an important contribution to the growth of the field
"The greatest feeling is seeing someone come out of the course and get promoted or find a new role. Or seeing a company taking an important step forward leveraging additive technology when their understanding and their confidence to ask clear questions and build a business case has been informed by the course," expresses Professor Hart.
Any final words for businesses considering investing in additive manufacturing training?
"Most large companies that touch manufacturing are thinking about the implications of additive manufacturing to their organization-and that's if they don't already have teams dedicated to this objective," says Professor Hart. He adds that companies must use systems-level thinking to find where additive technology fits within their organization.
He has found that the most successful companies are those that develop an internal competency and are willing to invest in the long-term implications of additive manufacturing from that systems-level perspective.
Professor Hart jokes that in terms of financial investment, the additive manufacturing course he teaches costs less than many desktop 3D printers (which are not needed to participate in the course!) "It's an efficient way to learn a lot in a short time frame and understand how you can use additive manufacturing to create value in your organization," he says.
Ready to leverage the potential of additive manufacturing to drive innovation in your organization? Learn more about MIT xPRO's Additive Manufacturing for Innovative Design and Production course.
Originally published at https://curve.mit.edu on March 15th, 2023.
---
Ask an MIT professor: What is additive manufacturing and why is it important? was originally published in MIT Open Learning on Medium, where people are continuing the conversation by highlighting and responding to this story.