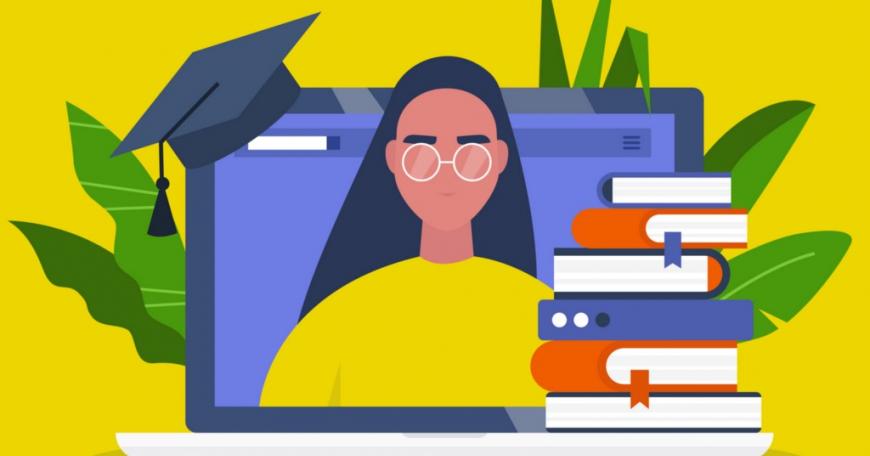 Building a global community of generous learning
ReACT's relationship with Bored of Boredom provides laptops for refugee learners
By Duyen Nguyen
Founded as an MIT-wide effort to open up educational opportunities for refugees worldwide, the MIT Refugee Action Hub (ReACT) today counts among its global community diverse nonprofit organizations, philanthropic supporters, universities, companies, and alumni. Together, the greater ReACT community strives to bring education and professional development opportunities to underserved communities, including refugees and migrants, wherever they live.
Recently, through Close the Gap, a member of the ReACT network that refurbishes and ships computers to communities in need around the world, ReACT connected with Bored of Boredom — an organization founded by high school students in Los Angeles — to provide laptop grants to two learners in ReACT's Certificate in Computer and Data Science (CDS) program.
The grants made it possible for the students — from Rwanda and Uganda, respectively — to participate in the online program, a yearlong journey in which participants develop advanced knowledge in computer programming, data analysis, critical thinking, and other competencies that enable them to make a difference in their lives and communities.
For Rebecca, one of the grant recipients, the laptop grant "came at an unexpected but very much needed time." Having sold her laptop during the COVID-19 pandemic to support her family, Rebecca had to walk 30 minutes each way to a friend's house to access a computer at the start of the CDS program. "Then a miracle happened," she says. "I was blessed with a laptop grant and that was great news to me and my family as they worried to see me walking nights."
With the grant, Rebecca was able to replace her laptop, which she says "has brought relief, happiness, reduced anxiety and stress to be able to focus on my program activities. I was able to revise and connect to my studies at any time and everywhere I wanted to." Rebecca graduated from the CDS program in September.
Building on the lessons of remote learning
The brainchild of Hope Shinderman, a high school student who was inspired by her own experience at the beginning of the pandemic to address the global disparities in remote learning, Bored of Boredom is a free virtual learning service for students, by students, that shares ReACT's vision on educational equity. "We strive to bring free educational enrichment to all, especially those who have historically been excluded from these opportunities or are unable to access them due to various socio-economic barriers," explains Sacha Toberoff, one of Bored of Boredom's three co-presidents.
Toberoff, now a high school senior, joined Bored of Boredom soon after its founding. In addition to managing the organization's operations, he's taught online classes for pK-12 students on racial justice, covering the murder of George Floyd and the history of police brutality in the United States, and mass atrocities such as the Holocaust. Emphasizing young people's motivation to find solutions to such systemic issues, Toberoff says, "Although these topics are sometimes difficult to teach to young learners, it is important to introduce them to global issues at a young age so that they grow to be globally conscious individuals."
Bored of Boredom's group classes, which range from creative arts like acrylic painting to introductory courses like basic arithmetic, are all taught by high school and college students — 800 of whom have volunteered with the organization since April 2020. As students themselves, the group draws on their own experiences with remote learning to make their pre-K–12 educational enrichments as engaging as possible. The organization also provides individual tutoring and after-school study halls that prioritize interactive learning experiences.
Eyes on the future
So far, Bored of Boredom has helped close the digital divide for thousands of students, both through its classes and through fundraising efforts like the one that connected the organization to MIT ReACT. But just as educational inequity did not begin with the COVID-19 pandemic, neither will it end with the pandemic. Like ReACT, Bored of Boredom is planning for the future. With most schools in the US making a full return to the classroom this fall, Toberoff says the organization is "working to partner with public schools in underserved areas of Los Angeles to give students the opportunity to access more educational resources and materials outside of the classroom."
"We also have tutors based around the world in Japan, South America, and India that are working to build larger networks of Bored of Boredom tutors and students in their respective communities," Toberoff adds, describing a vision for the organization that members of the ReACT community will recognize — one centered around connection, collaboration, and meeting people where they are.
---
Building a global community of generous learning was originally published in MIT Open Learning on Medium, where people are continuing the conversation by highlighting and responding to this story.