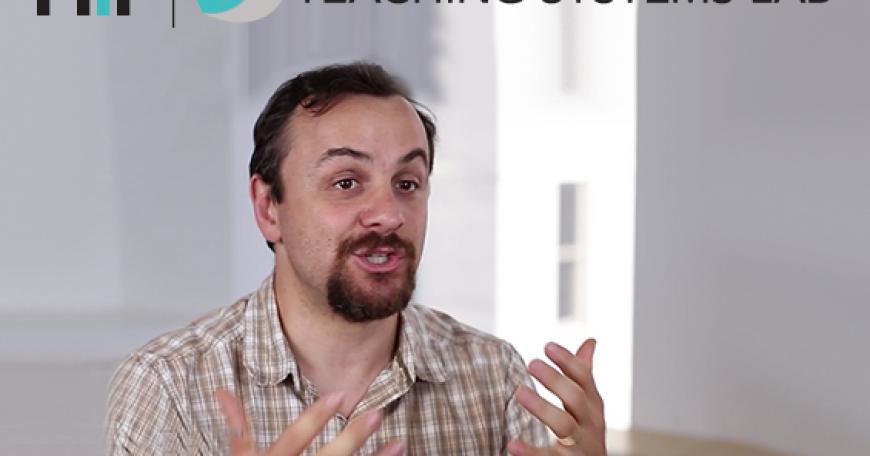 Justin Reich on "Playful Rehearsal: Designing Practice Spaces for Teachers"
We expect professional tennis players to practice for hours before their big game. But teachers don't have the same opportunity. Every day, they go into the classroom for the "big game," the outcome of which can change the lives of their students. And they are forced to adapt on the job which often limits them to focusing on classroom management and test preparation.
In last week's xTalk titled "Playful Rehearsal: Designing Practice Spaces for Teachers,"Justin Reich asked, "how can we allow teachers to practice their craft with low stakes and in the absence of time constraints?" The Teaching Systems Lab strives to answer this question by creating practice spaces for teachers to rehearse for and reflect. By exploring the intersections between online learning and teacher education, paying special attention to the complex technology-rich classrooms of the future, TSL hopes to change student life outcomes.
But how can we practice the complex and context-dependent interactions that teachers encounter every day? TSL has worked on breaking up the more complex interactions into essential elements and designing game-like learning experiences to practice those elements.
Game-like activities can mirror teachers' day-to-day experiences. These activities both engage the participating teachers and allow the near-transfer of knowledge to everyday classroom tasks. There are five projects that TSL is currently working on: Committee of N, Teacher Moments, Motivation Station, Eliciting Learner Knowledge (ELK), and BalderMath.
In Committee of N, teams are assigned to design some element of a fictional new school. They are randomly assigned three "values" cards, i.e. educational theories or principles that their school cares deeply about. Sometimes the values match well, but other times they are vastly different. For example, an outdated concept card like "life adjustment and purpose" could be dealt along with the radically new "flipped classroom" card. Or the "flipped classroom" card could be dealt along with a "hybrid/online learning" card, a perfect match. The players must integrate all of their three concept cards to create their assigned school element. 
The Committee of N was field tested last fall in an introductory MIT course, 11.124 Evaluating Education. Students loved the collaborative and fun activity which encouraged student optimism while tackling difficult real-life questions. At last week's xTalk, audience participants were offered the opportunity to play Committee of N.
Teacher Moments, another well-received TSL project, is an immersive classroom simulation experience for teachers. Motivation Station is a teacher version of Apples to Apples. Eliciting Learner Knowledge (ELK) is a game about exploring the conceptions and misconceptions students bring with them into the classroom.
All five of the TSL current projects have been play-tested and well-received. After each test, the TSL team works to further refine their product. In the future, TSL hopes to apply their products to complex social interactions outside classrooms, additionally offering them to professionals like managers and medical doctors. The Lab also hopes to see positive effects of their projects on teachers in the field. Creating low-stakes practice spaces for teachers is an essential new direction for education researchers. For the future of our students, we must hope the TSL team succeeds.