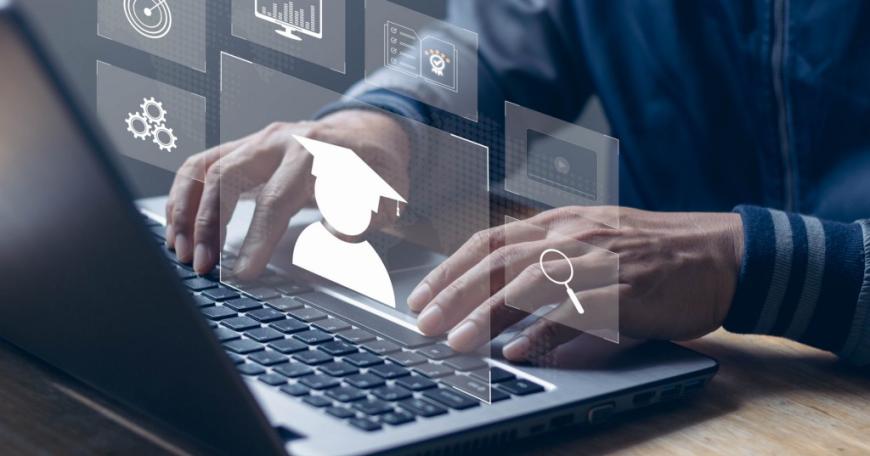 Mapping the LER ecosystem to drive adoption and collaboration in service of learners and earners
Digital Credentials Consortium and NationSwell working with stakeholders to identify barriers and opportunities
The Digital Credentials Consortium (DCC), hosted at MIT Open Learning, is working with a group of leading organizations in the education and workforce development space to increase uptake of digital learning and employment records (LERs) in order to unlock economic opportunities.
Digital LERs contain verifiable information about a person's achievements and skills, which can include diplomas, transcripts, certifications, or licenses, gained through formal or informal education and in the workplace. LERs have potential to increase access to career pathways and make learning, career and life transitions more equitable — but there are barriers that stand in the way of adoption. These barriers, many of which were highlighted in DCC's 2022 report "Credentials to Employment: The Last Mile, include ensuring interoperability across emerging standards, connecting with existing trust providers such as accreditation bodies, and developing tools that make it easier to issue standard credentials in digital formats.
One of the main recommendations from the "Last Mile" report was to take a more coordinated ecosystem approach towards widespread adoption. Towards this end, the DCC and NationSwell have launched an effort to create a dynamic map of the LER ecosystem, with support from Walmart. It will engage a wide range of stakeholders to identify opportunities for coordinated and strategic action in service of greater utility and equity for learners and earners, including accelerating skills-based hiring practices.
The project is a collaborative effort with organizations who represent a wide range of stakeholder groups, including American Association of Collegiate Registrars and Admissions Officers (AACRAO), Brookings Institution, Competency-Based Education Network (C-BEN), Digital Promise, Jobs For The Future (JFF), National Association of Workforce Boards (NAWB), National Governors Association (NGA), T3 Innovation Network (an initiative by the U.S. Chamber of Commerce Foundation), and Society for Resource Management Foundation (SHRM).
Sean Murphy, Senior Manager, Opportunity at Walmart says, "We know that a standardized system for learning and employment records is a critical step in expanding adoption. The LER ecosystem map project brings together key leaders working at the forefront of LER systems and we look forward to the actionable insights that it brings to the field as we continue to pursue a workforce system where workers can better validate and communicate their skills."
The ecosystem map will provide a shared vision for realizing the benefits of this technology for more learners and workers, and empower stakeholders with data to help them collaborate across the ecosystem and drive equity through their work. The map aims to inform LER implementations and strategic action by all sides of the LER ecosystem, including education institutions, job-seekers, policy-makers, employers, and foundation. It will inform LER pilot funding opportunities currently under development.
Over the next few months, the effort will organize stakeholder interviews and workshops to ensure a wide variety of perspectives are represented. The first version of the map will be released in the summer 2023, and is designed to become a "living document." The team invites other organizations to engage with the process and plans to work with the broader community to revisit and refresh the map as the collective work towards LER adoption progresses. Please email digitalcredentials@mit.edu if you would like to learn more or receive occasional updates about this project.
The effort is jointly facilitated by the Digital Credentials Consortium and NationSwell, a B Corp dedicated to providing essential support to impact-driven leaders and organizations through a unique membership community and leading impact studio. The project is supported by Walmart.
---
Mapping the LER ecosystem to drive adoption and collaboration in service of learners and earners was originally published in MIT Open Learning on Medium, where people are continuing the conversation by highlighting and responding to this story.