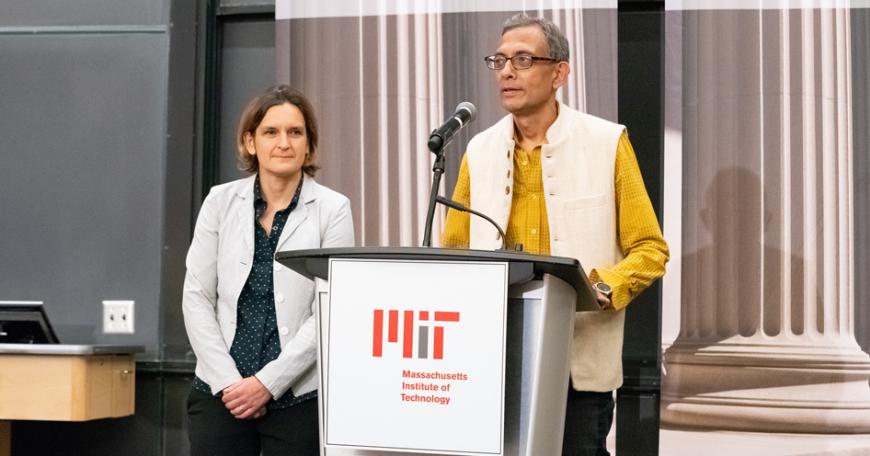 Nobel Prize winners share their research with the world through online courses and programs
Anyone, anywhere has the opportunity to learn from MIT Professors Esther Duflo and Abhijit Banerjee, co-winners of the 2019 Nobel Memorial Prize for Economic Sciences 
This week, MIT professors Abhijit Banerjee and Esther Duflo were awarded the 2019 Nobel Memorial Prize in Economic Sciences. Professors Banerjee and Duflo created and serve as lead instructors in two innovative programs offered by MIT's world-renowned Department of Economics: The MITx MicroMasters® program in Data, Economics, and Development Policy; and a blended online and in-person master's degree. 
The blended program is the department's first master's degree. Prospective students must earn the MITx MicroMasters credential in Data, Economics, and Development Policy (DEDP), a professional achievement on its own, before applying to the master's program. Anyone, anywhere can try their hand at the MITx online courses that make up the MicroMasters program, and may then earn admission to master's programs at MIT and elsewhere. The first class of students accepted to the MIT master's program will arrive on campus this January.
In light of the recent Nobel news, these programs offer an exciting opportunity for learners around the world to benefit from Professors Banerjee and Duflo's Nobel-winning research and teaching. 
Sharing Nobel Prize-winning knowledge
Under Professor Duflo's leadership, 251 people around the world have completed the online MITx MicroMasters program in Data, Economics, and Development Policy, and more than a thousand more are well on their way to doing so. In the MITx courses, Prof. Duflo and her colleagues teach learners how to improve poverty alleviation programs through randomized evaluations, realizing her vision of sharing the power of these methodologies with development practitioners around the world. 
"Policymakers, NGO activists, and business people in developing countries are increasingly aware of the importance of good data and rigorous evidence for designing and choosing policies and projects — and implementing them effectively," Prof. Duflo told MIT News in 2016. "To become good producers and consumers of evidence, they need staff with a strong quantitative and analytical background."
The teams at MITx and the Abdul Latif Jameel Poverty Action Lab, which Profs. Duflo and Banerjee co-founded and co-lead, are proud to offer learners across the globe access to the highly innovative work in the areas of development economics and poverty alleviation through these programs.
And, on behalf of MIT Open Learning and all of our online learners, we offer a heartfelt congratulations to Profs. Duflo, Banerjee, and joint recipient Michael Kremer of Harvard on this tremendous achievement. It is an honor and a privilege to work with you.