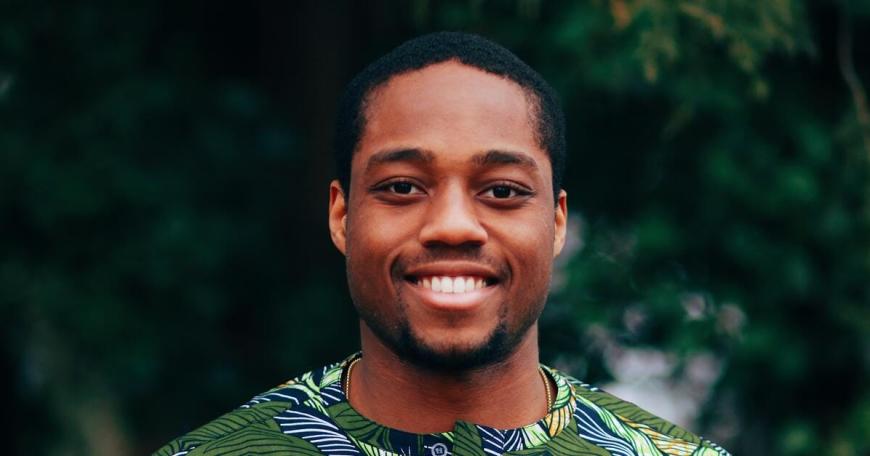 Solving "stage fright"
MIT Sloan alumnus and faculty research whether an app can lessen students' unease around public speaking
By Amy MacMillan Bankson
Many people are uncomfortable speaking in public. In fact, the fear of public speaking is more common than the fear of both heights and spiders. Sidestepping spiders probably won't affect your quality of life, but avoiding public speaking can hinder professional development, which is why teenagers and young adults should learn to overcome this fear. An MIT research grant awarded to an MIT Sloan alumnus and a faculty member may offer an accessible and appealing solution to this common condition.
This past summer, the MIT Integrated Learning Initiative (MITili) awarded a $27,260 education research grant to Nwanacho Nwana, SB '20, and Lori Breslow, senior lecturer in managerial communication at MIT Sloan. This is the fourth year MITili has awarded these education research grants on the science of learning, and it's the first time a team from MIT Sloan has been chosen for this annual grant.
Artificial intelligence-assisted observational learning
In 2021, Nwana developed an app known as Valfee. The Valfee app encourages students to choose an avatar representing a public speaker whom they might want to emulate as a way to practice public speaking. Using Valfee on their phone, students can then practice public speaking by choosing a prompt and answering a question about that topic. AI-derived metrics on the app compare the user's speech to the avatar's and gives them feedback on how to speak more closely like their role model.
"I'm an educational researcher, and we know that anxiety gets in the way of learning."
Using grant money, Nwana and Breslow will research if their hypotheses is true: Can Valfee help reduce the anxiety around public speaking using AI-assisted observational learning? The research will involve a validated reliable instrument to measure speech anxiety and a pre-test/post-test design with a randomized control trial with middle school and high school students. Breslow said this is a population that's important to reach because many students do not have access to courses or workshops devoted to improving their communication skills.
Nwana believes that the common fear of public speaking should be conquered throughout society. "I think if we don't solve this problem, we are actually not really unlocking our full potential as humans. Because a lot of the smartest people — who may have the best ideas — don't really have confidence if they have anxiety about speaking in front of others," he said.
Breslow, who was the founder and former director of the Teaching & Learning Lab at MIT, agreed. "I'm an educational researcher, and we know that anxiety gets in the way of learning. Most of the research done has been about test anxiety, but there have been other studies about other kinds of anxiety getting in the way of people learning," she said.
Class connections
Nwana and Breslow first met when he took her class, "Communicating with Data," during his senior year at MIT Sloan. After graduating, Nwana started Valfee with a few partners. He contacted Breslow for advice, and she eventually became an advisor to the startup.
As a child, Nwana had a fear of public speaking, but it dissipated after he performed a puppet show in elementary school. He went on to become class president at MIT for all four years as an undergraduate, as he double majored in management and political science and played varsity basketball for three years. He also co-founded the Minority Business Association at MIT, as well as Engineering Social Change -a virtual panel series to connect students with alumni and industry professionals in search of the best ways to achieve social change in the workplace.
But as class president during the pandemic, he faced one of his biggest challenges yet when he had to give a virtual commencement address in 2020. To prepare, MIT Sloan provided him with a communications coach, and this experience provided the spark for Valfee.
"I think if we don't solve this problem, we are actually not really unlocking our full potential as humans."
As Nwana shifted into startup mode, he began to realize it is difficult to define a "good speech." He started researching the literature and then asked Breslow to join him, and it led to the research grant. Working on an educational research project with a former student is a first for Breslow. "I'm excited about the possibility of really reaching this population of students."
This fall, the pair just received final approval from the Committee on the Use of Humans as Experimental Subjects (COUHES) approval from MIT to start the research, which will involve a randomized control trial. An Undergraduate Research Opportunities Program (UROP) student will be added to the team once the data is collected.
Stephen Nelson, MITili senior manager, said Nwana and Breslow's project was one of "dozens of amazing research ideas from all of the departments across campus [that applied for grants]." Nelson added, "This year, unsurprisingly, two themes emerged: AI in education and student mental well-being. Following a difficult decision process, our team felt the research Breslow and Nwana would undertake would help with social anxiety and public speaking for young learners and have an exceptional impact in the classroom."
AI aside, Nwana's quick advice on how to become a better public speaker: "Find someone whom you really love watching speak, and figure out how you can emulate them. Also, people aren't as critical [of your speaking] as you might think … a lot of people are way more supportive, and a lot of the fear is in our head."
Originally published at https://mitsloan.mit.edu on October 16, 2023.
---
Solving "stage fright" was originally published in MIT Open Learning on Medium, where people are continuing the conversation by highlighting and responding to this story.