Online learning plays a critical role in making education more accessible to learners worldwide, regardless of age, background, or circumstance, and especially during times of economic or educational disruption. That is why MITx  works to support flexible learning opportunities to fit learners' evolving needs on a global scale through our massive open online courses, or MOOCs. 
Developing and running these MIT-quality online courses requires a significant investment of time, technology, and resources. Each MITx course is a collaborative effort by a team of MIT faculty, educational technologists, media specialists, intellectual property coordinators, digital learning fellows, and others. 
Gifts to MITx directly support the sustainability and growth of these efforts to make learning more accessible for anyone who wants to learn, and share the best of MIT's teaching with the world. Support MITx with a gift today.
Read more about the far reaching impact of MIT over the last ten years.
Donation FAQs
Why does MITx need my donation? 
MITx courses are free and open to learners anywhere through edX or MITx Online, with a small fee for those who elect to receive a verified certificate upon course completion. The vast majority of our learners either cannot afford or do not opt for a certification, and instead enroll in the free track. While we proudly offer these courses for free, they are not without cost to produce. Donations directly support MITx operations, allowing us to invest in new course development, video capture, and digital tools that create an interactive online learning experience that is unique to MITx. 
With an average of over 3,300 people signing up for an MITx course each day, your support helps us create reliable learning opportunities representing the rigor of MIT's academic programs. 
Is my donation tax deductible? 
Yes! MIT is a 501(c)(3) institution, and your gift is fully tax-deductible within the limitations of U.S. federal income tax laws. Our tax identification number is 04-2103594. You will receive a receipt for tax purposes after making your gift.
What goes into running MITx? 
Behind MITx is a dedicated team of over 20 individuals and 24 Digital Learning Lab fellows and scientists who work closely with faculty to design each of our online courses. A typical course requires 6-9 months to produce before it ever launches to our learners. In addition to developing new courses and preparing re-runs of popular courses, the team also works to make our MOOCs more accessible for all learners, including learners with disabilities, troubleshoot technical issues as they arise, produce stand-alone course videos to reach more learners via the MITx YouTube channel, preserve past courses on the MIT Open Learning Library, and so much more. Your support helps MITx build capacity to respond to learners' needs and create new ways for learners to find and engage with MITx course content. 
How do I donate? 
There are several ways to make your gift to MITx.
a.) The quickest and easiest way is to donate through our secure online web form. 
b.) To mail your gift, please make your check payable to "MITx" and mail it to*:
MIT Open Learning
600 Technology Square, 2nd Floor
Cambridge, MA 02139
c.) You can also make your gift via donor-advised funds, wire transfer, or a bequest. Please indicate that you would like to support the MITx Fund (fund number: 4014650). For questions, or to learn about other ways to give, please email ol-giving@mit.edu. 
How do recurring donations work? 
You can choose to renew your gift automatically on a monthly or annual basis by setting up a  recurring gift through our secure web form. Recurring gifts can be set up for any amount and help us plan for the future by letting us know we can count on your support.
Can my employer match my gift?
Yes, you can double your impact when your employer matches your gift to MITx. To find out whether your company has a matching gift policy, please visit the MIT matching gifts page. Then make your donation to MITx. 
What about MIT's endowment? 
The endowment is intended to support current and future generations of MIT scholars with the resources needed to advance knowledge, research, and innovation. As such, endowment funds are typically restricted and used for Institute activities, including education, research, campus renewal, faculty work, and student financial aid. An unrestricted donation from learners and supporters directly to MITx would offer us the flexibility to use the funds where we need it most.
How else can I support MITx? 
Spreading the word about MITx to your network and community is another critical way you can help support MITx. You can also tell us how you've learned with MITx by sharing your story and by connecting with us on Facebook,  Twitter, and LinkedIn. Hearing from you helps us better understand the impact MITx has for our learners, and how we might better serve your needs. 
Who are your supporters? 
Like our learners, the MITx supporter community comes from all over the world. During our 2020-2021 year, MITx supporters represented 54 countries on 6 continents, and made a typical gift of $25 to MITx. Support for MITx also comes from MathWorks.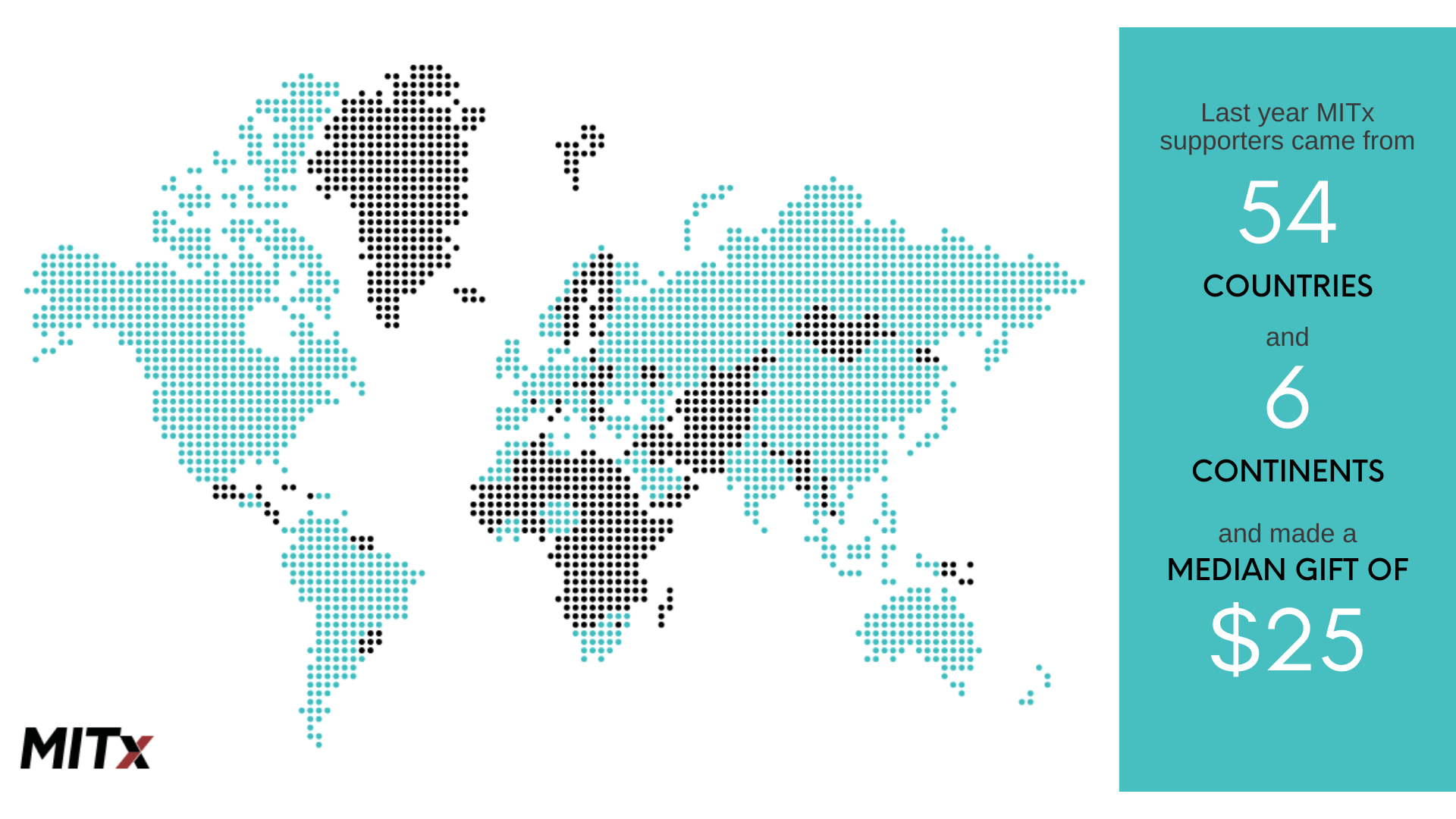 Hear from some of our supporters on why they give to MITx:
"I've been retired for twenty years, and over that time MITx has helped me stay in touch with my profession by learning new skills and refreshing old ones.  A good textbook is a wonderful thing, but no substitute for hearing a lecture by a good professor that cares about teaching. That's why I contributed to MITx." -Curt, MITx supporter 
"My primary reason for supporting MITx is as a student of OpenCourseWare and MITx, I wanted to see MIT continue to offer these opportunities. Secondly as an avid believer in a strong education system creates a more beautiful civilization.  Offering open education regardless of background creates a much more equal society, one that hopefully rewards the hard working and talented opposed to the wealthy. Thank you and all of MIT staff, for this profound gift." -Jeremy, MITx supporter 
"Mastering and understanding some of the toughest subjects in engineering has been a strenuous journey. MITx has helped me understand what seems impossibly difficult, to be possible. I hope that more people can benefit from this." -Mike, MITx supporter
"My life has been devoted to supporting and advocating for the underserved. MITx provides for this, and at a location accessible to even the most isolated among us. All that's needed is connectivity; once you're plugged in, you own the universe. How inspiring and empowering!" -Michele, MITx supporter
"I have enjoyed a number of MITx MOOCs, and in addition I am currently enrolled in the DEDP MicroMasters track. It is challenging and inspirational. Thank you and everyone at MIT and MITx who make these courses possible. I strongly believe that MOOCs and educational avenues such as these are what matter after, and in addition to one's traditional educational track and who knows, someday lifelong learning may be just a matter-of-course." -Paul, MITx supporter
Thank you for considering a gift in support of MITx, and thank you for making us part of your learning journey!