DIGITAL LEARNING IN EDUCATION @ MIT
News from Residential Education at ODL: Vol. 1, Issue 2, April 2017.
---
Updated data on MITx usage in residential subjects, research-based tips for efficient Residential MITx integration, and Dr. Socrate's online assessment case study are highlighted below.
---
Residential MITx by the numbers with current spring 2017 data: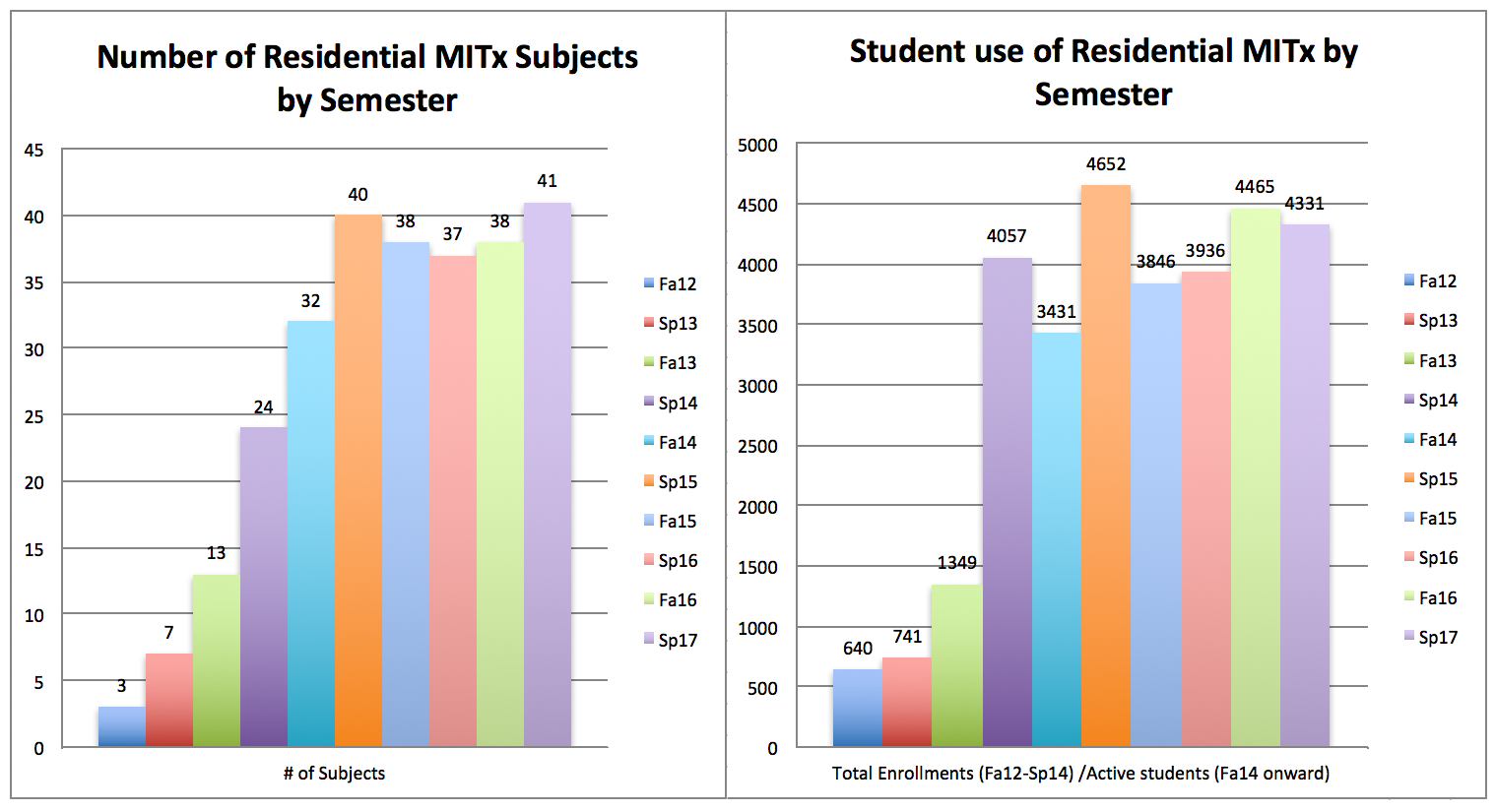 ---
Please visit our newly created Resources and References page with researched-based findings that facilitate student learning both for in-class and online environments: 
Retrieval practice ("testing effect")
Spaced and interleaved practice
Worked and faded examples
Active Learning
Pre-/post-testing
Examples and references as well as related instructional frameworks provide a concise introduction to these teaching tools.
---
Residential MITx FAQ
Q: Why should I use Residential MITx when it is cumbersome to configure and requires coding skills to use effectively?
A: Because it doesn't. The most useful tools in MITx are easily accessed without coding. Site set-up and configuration are quickly accomplished with the assistance of an Ed Tech Consultant, either through online help or scheduling an office visit at a time of your choosing (mitx-support@mit.edu).

Q: Can MITx really make p-sets more efficient and data rich?
A: Absolutely. Online psets offer:
Rapid feedback to students, accelerating the learning cycle
Easy access to user data which reveals student confusion
Five different question types including numeric fields, text fields, and various multiple choice formats, all with built-in hints and feedback
Q: What can MITx offer me that Stellar doesn't?
A: While Stellar is an excellent repository for class materials, handouts, and assignments; MITx has a pedagogical dimension with significant interactivity and a sequenced user experience tailored to learning goals.
---
Online Assessments in 2.001 Mechanics and Materials
Dr. Simona Socrate used the MITx platform for online tests in her class Mechanics and Materials. The secure environment of MITx discouraged cheating and provided useful analytics on student online behavior. Read more about 2.001.
---
Upcoming xTalks
Tim Van Der Zee - Wed., April 12, 3-4 pm, rm 66-144
Learning From Videos in Open Online Education
How can we increase the educational value of videos so they are informative but not overly complex?
Hamish Coates -  Wed., May 3, 3-4 pm, rm 10-105 (Bush Room)
Innovative Approaches to Enhancing the 21st Century Student Experience
A recent Australian innovation defines new concepts for understanding higher ed students through smaller and more regulated systems which are more meaningful.
Ory Zik Tues., May 9, 3-4 pm, room 4-231
Why You Don't Know Your Carbon Footprint
A necessary condition for quantitative thinking about climate change is metrics rooted in data and science.
Missed Prof Pritchard's xTalk/DUET last month? Watch the video or read MIT student Timmy Hussain's summary reflections.
Visit our playlist of past xTalks videos.
---
News from Residential Education at ODL: Vol. 1, Issue 2, April 2017. To suggest article topics, ask questions, or subscribe to this newsletter, please email res-ed-newsletter@mit.edu.