Open edX Conference 2023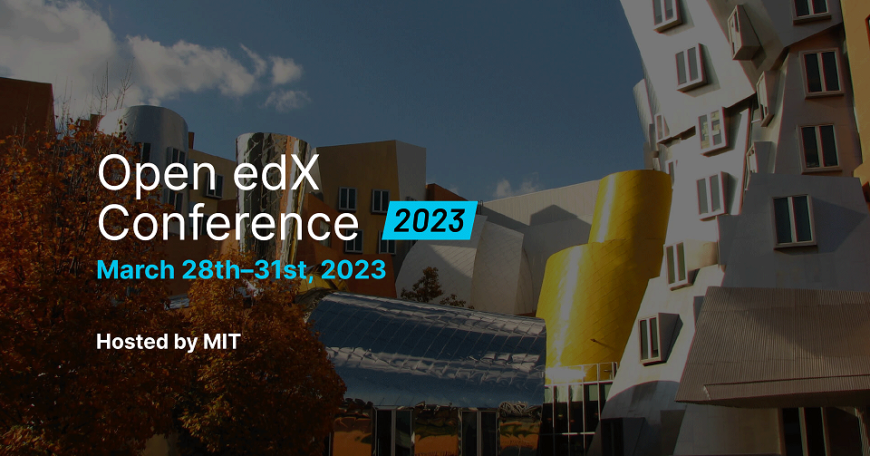 We are looking forward to seeing you at the Open edX Conference 2023, occurring between Tuesday, March 28th and Friday, March 31st, 2023, hosted by the Massachusetts Institute of Technology (MIT) and are delighted to share the below list of updates. 
Keynote Speakers
Two of three keynote speakers, who will present at the Open edX Conference 2023, include Justin Reich, Director of the MIT Teaching Systems Lab, and Anant Agarwal, Founder of edX and Chief Platform Officer at 2U. The third keynote speaker will be announced once confirmed.  
Justin Reich is an educational researcher interested in the future of learning in a networked world. He is the Director of the MIT Teaching Systems Lab, which aspires to design, implement, and research the future of teacher learning. He is the author of Failure to Disrupt: Why Technology Alone Can't Transform EducationOpens a link in a new tab from Harvard University Press. He is also the host of the TeachLab podcast, and five open online courses on edX including Sorting Truth from Fiction: Civic Online Reasoning, and Becoming a More Equitable Educator: Mindsets and Practices. Justin is a former fellow and faculty associate of the Berkman Klein Center for Internet and Society at Harvard University.
Anant Agarwal is 2U's Chief Platform Officer, guiding and furthering the company's vision to increase access to high-quality education for everyone, everywhere. As founder and CEO of edX, Agarwal brings his expertise in building powerful online learning platforms to align product and technology at 2U, as the company creates the world's most comprehensive free-to-degree online learning marketplace. As the first educator to teach an edX course, Agarwal drew 155,000 students from 162 countries. He remains a professor of electrical engineering and computer science at MIT today.
Conference Schedule
Tuesday, March 28th will feature tutorial sessions. This includes hands-on and interactive learning sessions targeted at ensuring an attendee's full understanding of the presented topics. The details of such tutorial topics will be announced after the closing of the CFPOpens a link in a new tab, scheduled for 1/23/23. 
Wednesday & Thursday (March 29th & 30th) will feature three keynote speakers, 45-minute talk sessions, 10-minute lightning talks, and a cocktail reception on Wednesday evening, which will provide a great opportunity for unstructured networking, after a full day of insightful presentations. 
Note: The cocktail reception is scheduled for Wednesday evening, 3/29/23. 
Friday, March 31st is the last day of the conference and will feature a variety of community oriented sessions, including a Community Town Hall and Working Group Opens a link in a new tabmeetings, which are open to all attendees. 
Birds of a Feather sessions will occur on Tuesday, Wednesday, and Friday and is representative of unstructured time, in which conference attendees propose topics they would like to discuss and other conference attendees gather around those topics for meaningful conversations. 
Registration 
To purchase tickets for the Open edX Conference 2023, please complete your registration in EventbriteOpens a link in a new tab. We have an Early Bird discount rate available between now and January 6th. Don't miss your chance to purchase conference tickets at the discounted rate, as the Early Bird discount rate is coming to an end soon. 
Visa Info
Please check with your local U.S. embassy, if you require a visa to travel to the United States, to attend the Open edX Conference 2023. Up to date information related to visa requirements can be located on this websiteOpens a link in a new tab. We will provide letters, in support of your visa application, upon request. Please submit all visa letter inquiries here. Opens a link in a new tab
Note: Registration in Eventbrite has to be completed prior to the issuance of a visa support letter, which will be issued by MIT. 
CFP
As mentioned above, the Call for Proposals is open between now and January 23rd, 2023. To learn about the types of presentations we are seeking and how you can submit a presentation proposal, please visit Sessionize. Opens a link in a new tab
Sponsorship
Sponsoring the conference is a great way to show your support for the Open edX platform and the people who build it.  You can view our available sponsorship opportunities in this year's prospectus:
Sponsorship OpportunitiesDownloadOpens a link in a new tab
If you are interested in sponsoring the Open edX Conference 2023, please submit your inquiry here. Opens a link in a new tabWe are looking forward to sharing learnings and conversations with you at the Open edX Conference 2023.