How MIT faculty and instructors transform their classes on Canvas for better instruction
21H.134, 7.05, CMS.611, 21G.S63, 21M.011
Office of Digital Learning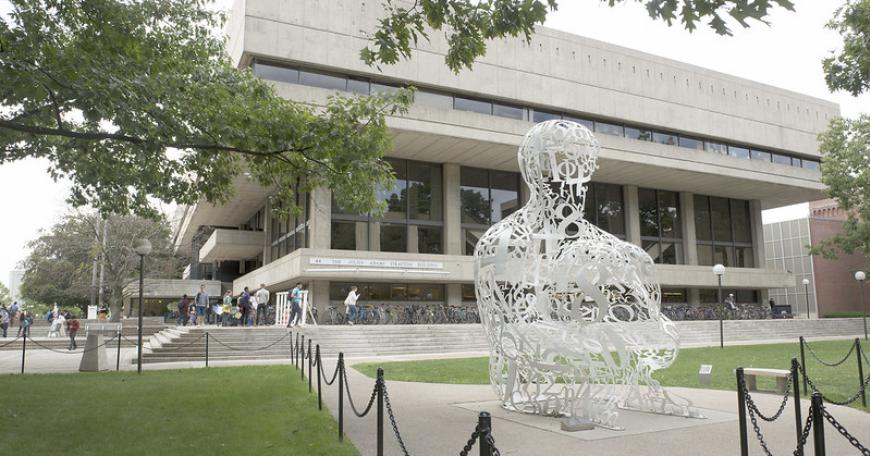 Faculty/Instructor
Anne McCants, Michael Yaffe, Tyler Smith, Richard Eberhard, Philip Tan, Maria Khotimsky, Teresa Neff
Digital Innovations & Tools
Active Learning
Blended Learning & Flipped Classroom
Online Assessments & Rapid Feedback
Perusall
Instructional innovation faces two common challenges: time and resources. So, MIT faculty and instructors wanting to improve their instructional effectiveness can apply to the Canvas Innovation Fund (CIF).
The CIF piloted in summer of 2023, with faculty and instructors across five departments: Anne McCants (history), Michael Yaffe (biology), Richard Eberhardt (comparative media studies/writing), Maria Khotimsky (global languages), and Teresa Neff (music and theater arts).
Each faculty and instructor worked with an MIT undergraduate student to implement instructional improvements to their subjects using Canvas and integrated tools. The MIT students were paid, trained, and guided by Open Learning Residential Education. Instructors gained both time and resources through the CIF, and began testing their innovative teaching approaches in fall 2023 subjects. The CIF, as an instructor shared, gave a chance to "[think] through the class beyond just the Canvas component, to have a moment to consider how students engage with the material overall."
Diverse resources and projects on Canvas
21H.134 Medieval Economy in Comparative Perspective - Anne McCants
Materials for this class come from diverse resources—history, archeology, economics—and range from readings to graphics to data. With weekly tasks, a semester-long project, and writing assignments (as a CI-H), students and instructors alike benefit from good organization.
Semester-long mapping: Perusall is now integrated in 21H.134 for a collective mapping project, an improvement upon past use of separate tools (such as Google Maps). With the Perusall integration students can annotate variations of world maps in groups and make their comments visible to the instructors.
Weekly expectations: Canvas Modules in 21H.134 are now organized with a weekly summary page. Rather than just linking individual resources, readings are embedded within the module page. Students now have more context about each reading/author. Additionally, each week includes a text box entry Assignment for students to submit reflections on their choice of one reading.
Feedback on writing: Canvas Rubrics make paper guidelines or expectations explicit in grading written assignments. Two assignments in 21H.134 now use the rubrics, in addition to using SpeedGrader annotation for giving feedback on papers.
Active learning and redesigning Canvas modules
7.05 Biochemistry - Michael Yaffe and Tyler Smith
In a course with many topics and a variety of digital resources, instructors need an effective way to present materials to students and check and reinforce student learning.
Re-structuring resources: Canvas Modules in 7.05 now include pset modules at the top of course materials, with each lecture consisting of one module for handouts or readings and another module for supplemental materials.
Easier navigation: The modules for supplemental materials now include a table of contents and timed stamped outlines of Panopto lecture videos.
Active learning: For each lecture, polling questions were created using Poll Everywhere for use during in-class time.
Feedback processes, reminders, and videos
CMS.611 Creating Video games - Richard Eberhardt and Philip Tan
Projects are a core part of CMS.611, so balancing course work with appropriately timed feedback is important. Streamlined ways of completing and reviewing weekly assignments help students to keep good progress on projects and instructors to respond effectively.
Weekly assignment: Rather than having a discussion board for each student to post on weekly, the developer diary is now a graded Assignment embedded within each weekly module, and is submitted using a new PDF template.
Task reminders: The CMS.611 Canvas site now has weekly pages that summarize due dates, includes updates and descriptions of material to be covered that week, and is scheduled for auto-release at the same time each week. In addition, course Announcements are scheduled to post weekly with links to relevant Canvas pages.
Incorporating videos: As a supplemental resource, each course module now includes xPro videos that were loaded into Panopto.
Clear expectations and asynchronous presence
21G.S63 Russian III - Maria Khotimsky
In 21G.S63, students engage in one hour of asynchronous work per week in addition to in-person classes. To clearly articulate learning goals and better understand students' learning gains, especially with this hybrid competent, Khotimsky set out to reorganize the Canvas site.
Asynchronous Thursdays: The asynchronous day materials are explained and made distinct from the regular homework within the weekly modules. The instructor maintains social presence by introducing the day's content via embedded short videos.
Seamless navigation: Assignments and resources have now been labeled consistently with the weekly module pages, making it easier to move from the weekly pages to the correct resources.
Preparing students while building community
21M.011 Introduction to Western Music - Teresa Neff
In 21M.01, students listen and respond to music. Neff aimed to ensure students have scaffolded opportunities to practice these skills as a group, through recitation sessions, and via writing (CI-H course).
Reflections on content: Rather than using textbooks, 21M.01 consists of graded Discussions. The discussion pages host both content and prompts. The content includes pre-lecture or recitation materials (such as readings, audio/video files), while prompts ask for student reflections. The discussions are a resource that students can revisit for content and peer reflections in one place.
Community building: Perusall is now integrated in 21M.011 with audio clips. Students can listen to music together and practice for quizzes as a community. Additionally, supplementary guides help students to know what to expect on the 21M.011 site and how to use Perusall for quiz practice.
We'd like to thank the MIT undergraduate students who supported faculty and instructors in designing and implementing these CIF projects.
Learn more about the Canvas Innovation Fund. Want more information or a consultation? Email ol-residential@mit.edu to get help from the Residential Education team.
Photo credit: Christopher Harting