Learning Visually Online: Transition to Remote Teaching in 4.501
4.501
Architecture (Course 4)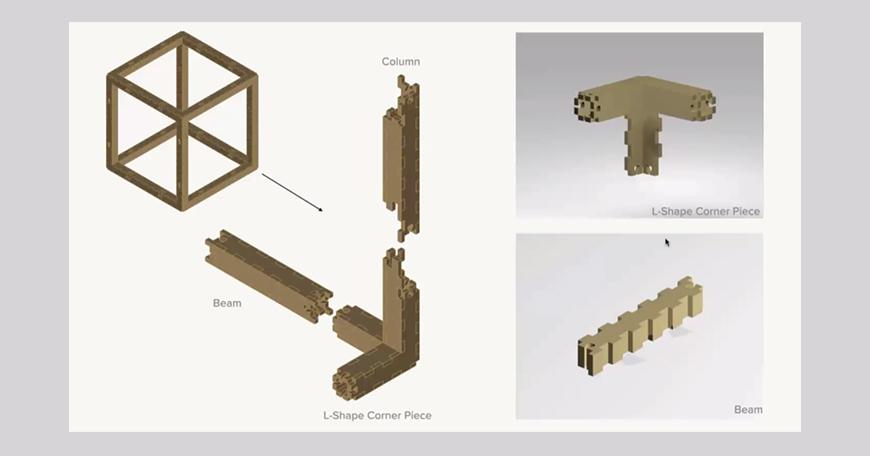 Digital Innovations & Tools
Remote Teaching
Simulations & Visualizations
Professor Lawrence Sass's Advanced Design and Digital Fabrication course (4.501) is deeply engaged with the physical world. Students learn the processes of designing, modeling, and rendering, and later fabricate furniture, buildings, and other structures.
Adapting to online
When Prof Sass's plan to construct a tiny house on campus this spring with his students was quashed due to the course moving online, Sass was faced with the challenge of re-engineering his curriculum to work within the confines of online teaching and learning.
Normally, in the first half of 4.501, students focus on skills acquisition such as 3-D printing, laser cutting, and CNC machining. In the image below, students learn digital fabrication by CNC fabrication and assembly of a small bridge of plywood parts. They design the bridge in studio, share the data, and CNC fabricate plywood parts in the shop. They carry their parts from the shop and assemble them in Killian Court, discovering through physical assembly and interaction how design happens as a physical process.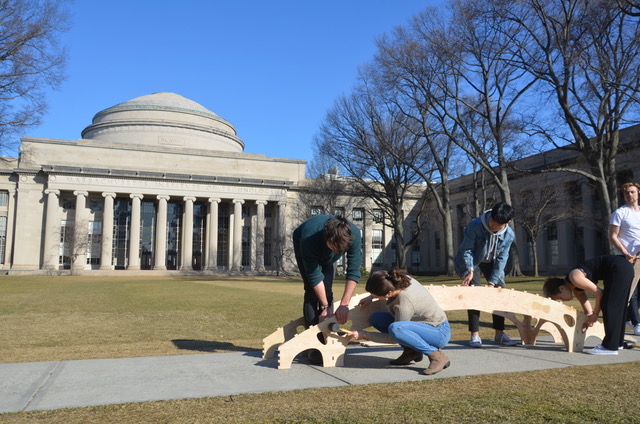 After spring break, students continue implementing these skills through hands-on projects constructing other physical prototypes. However, when the course moved online, undertaking these projects was no longer feasible. This loss of experience in the physical world was a loss for the students. Sass surveyed his class mid-semester to determine how they would want to spend the rest of the course. He offered them the option to focus on research and historical inquiry or explore alternate methods for hands-on skills building.
Transitions from physical prototyping to animation
Sass's students clearly indicated they still wanted to do hands-on work even in an online environment. Since constructing physical prototypes had become an impossibility, Prof Sass turned to a virtual solution, animation, with such tools as 3D Studio from the movie industry; Blender, for building models for gaming; and Rhino, a CAD modeling tool.
Although animation deliverables fall short of paralleling the complexity of physical prototypes, learning animation provided a unique perspective on design and offered students the opportunity to create innovative projects and develop a new set of competencies:
Controlling camera movement and placement.
Understanding object movement, ie taking apart and putting back together components and structures.
Knowledge of keyframes for dismantling and re-assembling components.
Use of lighting and light placement.
The animation skills that Sass's students have learned will give them a competitive edge against their peers, as well as enhance their capacity to communicate effectively.
Prof Sass has successfully adapted his course to the limitations of an online environment and given his students meaningful and valuable alternate learning experiences.