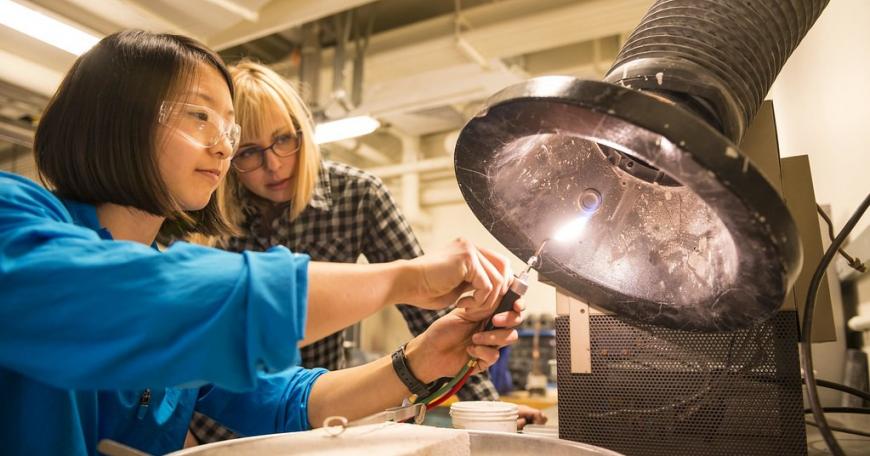 Build your skills with MIT's women engineers
June 23 is International Women in Engineering Day! To celebrate, we've put together a list of just a few of the teaching and learning resources you can access to tap into the wisdom of some of MIT's remarkable women engineers:
Dig into MIT OpenCourseWare Materials:
Electronic, Optical and Magnetic Properties of Materials with Polina Anikeeva
Freshman Seminar: The Nature of Engineering with Lorna Gibson
History of Women in Science and Engineering with Maia Weinstock
Integrated Chemical Engineering Topics I: Introduction to Biocatalysis with Kristala L. Jones Prather
Introduction to Biological Engineering Design with Natalie Kuldell
Mechanics & Materials I with Carol Livermore, Simona Socrate, and others
Molecular Aspects of Chemical Engineering with Paula Hammond
Nuclear Engineering: Science, Systems and Society with Marina Dang, Anne E. White, and others
Take an MITx course from Materials Science & Engineering Faculty:
Lorna Gibson–Matoula S. Salapatas Professor of Materials Science and Engineering
Polina Anikeeva–Class of 1942 Associate Professor in Materials Science and Engineering
Jessica Sandland–Lecturer & Digital Learning Scientist
Discover teaching innovations & insights:
Electrical Engineering
Reducing TA Grading Hours: Intro to CS Programming in Python with Ana Bell
Materials Science & Engineering
Blending Asynchronous & Synchronous in Remote Teaching 3.024 with Polina Anikeeva
Video: Flexible Access to Curricula: Mechanical Behavior of Materials with Lorna Gibson
Video: Highlights in DMSE Teaching Innovations with Jessica Sandland
Mechanical Engineering
Video: Conveying a Passion for Learning–Remotely with Barbara Hughey
Online Assessments in Mechanics & Materials with Simona Socrate
Symbiosis Between In-class & Online in Mechanics & Materials with Simona Socrate
Video: Using Online Content in Mechanics & Materials with Simona Socrate
Remote Teaching: Course 2 (Mechanical Engineering) with Maria Yang
Dive into podcasts & videos:
Visualizing the Future of Spaceship Earth with Dava Newman
Learning to Fly with Drs. Philip Greenspun & Tina Srivastava
Open Learning Talks | AI Education: Research and Practice with Cynthia Breazeal
---
Build your skills with MIT's women engineers was originally published in MIT Open Learning on Medium, where people are continuing the conversation by highlighting and responding to this story.