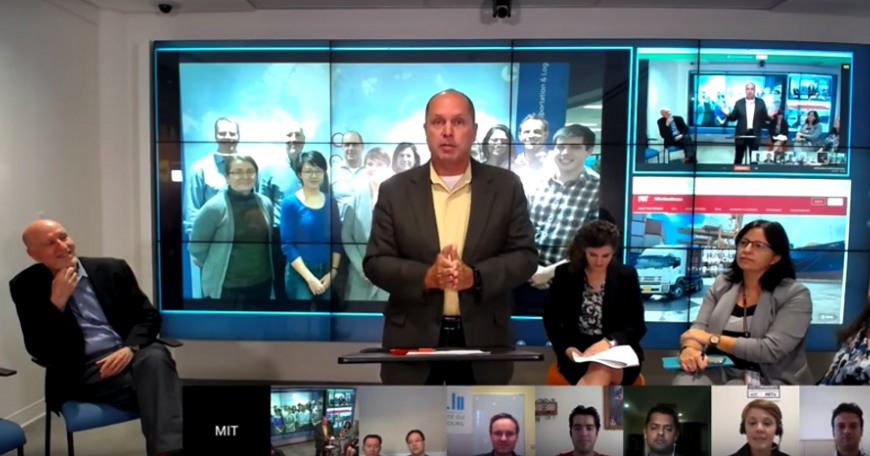 Global Online Ceremony Honors MIT Supply Chain Management MicroMasters Credential Earners
On Thursday, September 27, faculty members and learners from the MITx's Supply Chain Management (SCM) MicroMasters program convened at MIT's Center for Transportation & Logistics (CTL) for a unique, global celebration. Supply Chain professionals and MicroMasters program participants from around the world logged in to join Professor Yossi Sheffi (Director, CTL), Dr. Eva Ponce (Executive Director, MITx MicroMasters in SCM), Dr. Chris Caplice (Executive Director, CTL) and other members of the growing MicroMasters SCM community to congratulate the third cohort of SCM MicroMasters credential earners, who completed the program in August 2018.
Brittney Collins, a MicroMasters credential holder who is currently completing a Master's degree in SCM at MIT, led the event with pride and enthusiasm. Another recent MicroMasters finisher named Jamie Burgin was present in studio, and praised the MicroMasters program for increasing her efficacy and impact as a SAP Implementer. She also encouraged the graduates to use their new credential to apply for MIT's in-person Master's program, as she plans to next semester.
As the MicroMasters program in SCM continues to grow, so does its global footprint. Dr. Eva Ponce explained that this new cohort joins a global community over 1,200 credential holders from 196 countries, including the United States, India, Canada and Brazil. Community Teaching Assistants (CTAs), course leads, and MicroMasters holders who dialed in for this special ceremony, did so from California, Dubai, Germany, Italy and Mexico City.
Highlighting the camaraderie and collaborative nature of the online program, the graduates who called in from Italy revealed that this was their first time meeting in-person; they were actually in Italy because their remote collaboration had landed them top ranking in a Fresh Connection supply chain simulation, and they were in Milan to compete in the global finals.
The faculty present at the ceremony accompanied these glowing testimonials with impressive statistics about participant career growth. Of the MicroMasters program participants who self-reported, 84% attributed completing the MicroMasters program to a promotion, 34% reported that the credential enhanced their job search, and 30% said that their annual income increased after they obtained their SCM MicroMasters credential.
Dr. Chris Caplice discussed the history of the program, which started as a simple discussion between himself and MIT President Rafael Reif in 2015. The initial plan, he explained, was to put a selection of SCM lectures and course materials online for remote learners. Since then, more than a quarter of a million learners have enrolled in at least one of the MicroMasters SCx MOOCs, and MITx has issued a total of more than 23,000 SCx certificates to 8,999 unique learners. Enrollment is now open for the first two courses in the SCM MicroMasters program. To learn more, please visit https://micromasters.mit.edu/scm/