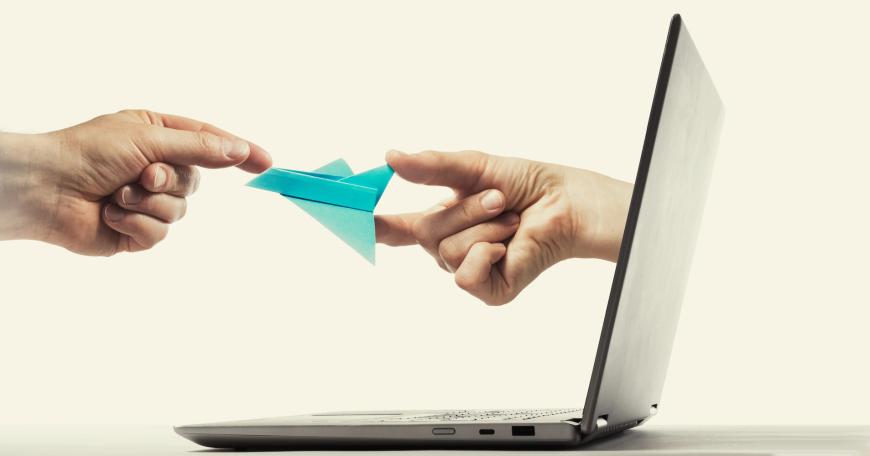 How asynchronous learning helps drive corporate innovation
Four ways continuous education benefits businesses and employees
By MIT xPRO
A survey conducted by global consulting firm McKinsey & Company that "during the first 12 months of the pandemic, top-decile economic performers innovated nearly twice as fast as their low-performing peers in generating new products and services."
This data supports what many of us know anecdotally to be true: successful companies have a strong culture of innovation. One that encourages employees to think outside the box, take risks, and develop new ideas. According to Luke Hobson , Senior Instructional Designer and Program Manager for MIT xPRO, businesses that maintain such a culture are more likely to:
Develop new products and services that meet the needs of their customers
Enter new markets
Grow their market share
Increase their profits
Franklin Mathieu , Senior Director of Sales at MIT xPRO, has a similar perspective. "Creating, nurturing, and fostering a culture of innovation is paramount for businesses to thrive in our evolving technological economy, and it has become even more critical over the past decade.
"An organization's ability to innovate will determine its success and relevance as changing and competitive business landscapes emerge," Mathieu says.
One way to drive innovation in the workplace is with corporate learning initiatives. Keep reading to find out why asynchronous learning, in particular, can help your company unlock new opportunities for innovation.
Continuous learning breeds innovation
Businesses with a strong culture of innovation also tend to have a strong culture of learning . They present opportunities for employees to enroll in courses, attend workshops, and share their knowledge and experiences.
But it can be difficult for employees with full work weeks and busy personal lives to find the time and energy to take advantage of these opportunities. Asynchronous learning — learning done on an individual's own time, at their own pace — is one solution to this challenge.
"Asynchronous learning serves as a crucial catalyst in continuous education for employees by offering flexibility, accessibility, and personalized learning journeys," Mathieu explains.
Hobson adds that, "flexibility is by far the greatest benefit of asynchronous learning. Employees can access learning material whenever and wherever it suits them best. This approach takes into consideration different work schedules, time zones, and personal commitments."
4 ways asynchronous learning helps drive corporate innovation
When asked for specific examples of how asynchronous learning helps drive corporate innovation, Hobson and Mathieu had these to share:
1. Collaboration and knowledge sharing
Inside an online course, social and collaborative features enable employees to connect, share insights, and collaborate across teams and departments. Discussion boards, virtual communities, and other tools facilitate the exchange of ideas and experiences, cultivating a collaborative learning environment.
Through these interactions, employees can tap into diverse perspectives, challenge existing notions, and co-create innovative solutions to complex problems.
2. Scalability
Everyone should feel included when it comes to generating ideas to help improve an organization. Asynchronous learning can be scaled to accommodate a significant number of employees, regardless of their geographical locations.
Online courses, webinars, and virtual workshops can reach a broad audience, allowing organizations to disseminate knowledge and promote innovation across their entire workforce.
3. Experimentation and risk-taking
Many learners find that asynchronous learning environments give them the freedom and flexibility to learn in a way that a traditional classroom doesn't.
Creating a safe environment that allows individuals to practice and fail nurtures experimentation and encourages qualified risk-taking without significant consequences. These two factors — experimentation and risk-taking — are key to driving innovation.
4. Learning analytics
Learning management systems collect data about learner engagement, progress, and areas of interest. This data can be used to identify knowledge gaps, emerging trends, and areas to direct innovation efforts.
By taking a data-driven approach, organizations can make informed decisions about future learning initiatives, resource allocation, and innovation strategies.
What to look for in an asynchronous learning program
First and foremost, organizations should assess whether a learning program aligns with their strategic initiatives and goals. If employees were to take a course and accomplish its learning objectives, would those learnings have a meaningful impact on the organization?
While every organization is unique, Hobson and Mathieu note that there are a few key elements to look for in an asynchronous program:
High-quality content and resources
Meaningful, relevant, and engaging learning experiences
Assessments, activities, and content that speaks to the needs of learners (e.g., chances to practice, apply, share, and reflect upon the course's teachings)
Flexibility and adaptability of content delivery
Integration points and scalability options
Parameters, tools, and measurable schemas for assessment
MIT xPRO's role in driving corporate innovation
Mathieu explains, "MIT xPRO's ultimate goal is to equip learners with the knowledge, skills, and mindset necessary to foster organizational innovation."
Hobson adds that MIT xPRO offers asynchronous courses focusing on technical expertise and leadership acumen; he suggests that both can drive innovation.
"Courses on technical topics, such as data science, AI, and machine learning, help leaders develop the skills to understand and use emerging technologies . And courses on leadership topics, such as , communication, and team building, help leaders develop the skills to lead and inspire others," Hobson says.
When GM went "all in" on electrical and autonomous vehicles, the company implemented systems engineering to achieve its ambitious goals. One of the first steps was enrolling employees in MIT xPRO's Architecture and System Engineering: Models and Methods to Manage Complex Systems program.
Here's what GM employee Nicole Bickley had to say about her experience participating in the program:
"By going through the four modules of the MIT program I got an understanding of what systems engineering is, how to apply systems thinking, and moving forward understanding how I can influence certain decisions and take on challenges and come up with creative solutions to resolve those problems that we see in our everyday work."
Ready to explore asynchronous learning opportunities for your employees? Check out MIT xPRO's course catalog!
Originally published at https://curve.mit.edu.
---
How asynchronous learning helps drive corporate innovation was originally published in MIT Open Learning on Medium, where people are continuing the conversation by highlighting and responding to this story.