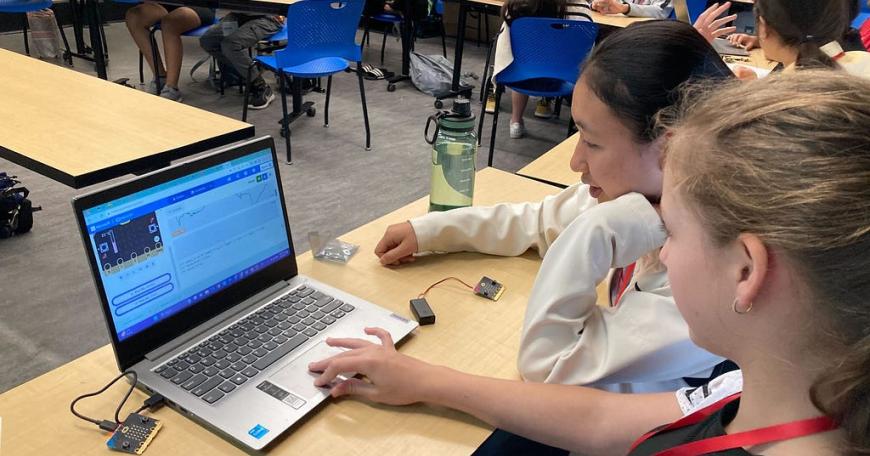 'It is like a dream for my son to learn STEAM'
MIT students and staff mentor 80 middle schoolers during Full STEAM Ahead Into Summer program, encouraging hands-on learning and skill building
By Katherine Ouellette
Full STEAM Ahead, a collection of MIT resources for teaching and learning online curated in response to the Covid-19 pandemic, is now going full steam ahead with in-person programs. This summer, pK-12, part of MIT Open Learning, held a two-week program on MIT campus for approximately 80 students between 11 and 14 years old.
The Full STEAM Ahead Into Summer program is an academic enrichment opportunity that combines hands-on exploration, project design, and skill building in science, technology, engineering, arts, and mathematics (STEAM). The 2023 program offered four modules related to the United Nations' Sustainable Development Goals, also giving participants a chance to design their own projects that address issues they care about.
Full STEAM Ahead's mission aims to address the learning gap posed by the pandemic through digital and non-digital learning resources. Even though K-12 classrooms have returned to in-person instruction, there's still a need for supplementary learning materials to help combat the learning loss students encountered during remote instruction. The Boston Globe reported that Massachusetts standardized test scores in 2023 are still "well below" pre-pandemic levels.
A working paper published in the National Bureau of Economic Research suggests that "high quality tutoring" can help tackle learning loss, an action The Center on Reinventing Public Education urges states to adopt at scale. Full STEAM Ahead Into Summer hired undergraduate and graduate students at MIT and other institutions to mentor the program's participants. To prepare mentors to work with middle school students, the MIT pK-12 team ran sessions on hands-on project-based learning, maker skills, classroom management, and coaching student projects. Participants also directly benefited from the expertise of four MIT staff members who managed and participated in the program.
The Full STEAM Ahead Into Summer program for local middle school students builds on MIT pK-12's local efforts. Last year, the Full STEAM Ahead Educators Immersion Program was an in-person summer enrichment opportunity offered to a cohort of educators from greater Boston area schools. The Educators Immersion Program focused on building the capacities of schools and organizations to develop their own STEAM programs by sharing the same principles of hands-on exploration, project-based learning principles, and program co-design.
Hands-on learning to solve real world challenges
Over two weeks, the middle school participants in the Full STEAM Ahead Into Summer program completed four modules related to the UN Sustainable Development Goals of Zero Hunger, Sustainable Cities and Communities, and Climate Action, including:
Fun with satellites/living in space: Projects in this module taught how satellite data can be used to explore space and better understand the Earth. Students worked with open-source satellite data, built model cubesats, and learned about data collection.
Project night owl: Light pollution is one of the fastest-growing environmental issues. This module covered how light pollution affects night sky visibility and our community as a whole. Activities included taking nighttime ambient light measurements at home and constructing potential models for street lights that would broadly reduce their negative light impact.
Life in a sustainable city: This interactive role-playing game depicted the varying effects of carbon pricing as an equitable climate policy in a theoretical city. The module also encouraged students to develop their own projects to redesign sustainable cities.
Everybody eats inventor: Students learned design thinking and "Internet of Things" technology skills through a highly collaborative, playful approach. Teams constructed interactive prototypes with code, electronics, and everyday materials like paper and cardboard.
According to a parent survey, students responded favorably to the program. "My son went to camp every day beaming and came home ecstatic every day," says one parent. "He learned a tremendous amount, loved his mentors, and gained so much from the experience."
In addition to the academic content, parents also noted the social-emotional gains for their children. "It is like a dream for my son to learn STEAM as we do not have this kind of experience in our home country," another parent shares. "He really feels like he belongs in the program, and he made so many friends. It was not easy for him to get friends in the past."
The survey also reported that the majority of parents were "very satisfied" with Full STEAM Ahead. One parent liked the fact that the program didn't just focus on theoretical lessons. Students participated in hands-on engineering and thought about real world problems.
For their final project, students collaborated on a challenge of their choosing. Students considered principles of design thinking to formulate their project plans, initially brainstorming before constructing physical and digital prototypes. Additionally, students were encouraged to implement technology in their final outputs, such as LEDs, sensors, and Scratch coding.
One team integrated micro:bits in an initiative to clean up local rivers. They looked into using motors to control the gates of a water-cleaning component and began integrating sensors for estimating when the cleaner was full. Another group envisioned extensions of public transportation that would serve more populations in the Greater Boston area. After considering fuel costs and needs of families in different areas, the students drew out maps that imagined subway and above ground trolley lines that would reach people in regions including Lynn, Brookline, and Randolph.
As one parent shares, "The topics covered and hands-on projects inspired my child to join MIT in the future, spend time off a screen, and instead learn something new."
---
'It is like a dream for my son to learn STEAM' was originally published in MIT Open Learning on Medium, where people are continuing the conversation by highlighting and responding to this story.