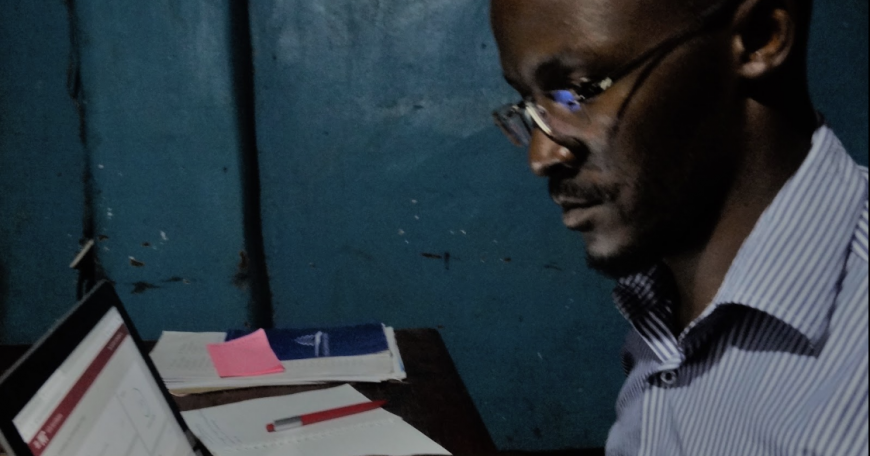 Learning Opportunities from MIT Spark Growth, Empowerment
Innocent Tshilombo, a refugee living in Kenya, pursues online credentials from MIT while also empowering those around him.
For the past eight years, Innocent Tshilombo has worked in humanitarian supply chain management, learning on the job at a refugee camp in Kakuma, Kenya.
Innocent's interest in supply chain began in 2011, when he volunteered as a shopkeeper with the International Rescue Committee (IRC), a global NGO that provides health programming in the camp. Today, he serves as Operations Coordinator for the University of Geneva Refugee Management team — while also pursuing a MicroMasters credential from MIT.
Innocent's path has not been easy. Originally from the Democratic Republic of Congo, Innocent fled his country more than a decade ago, and has lived at the camp in Kakuma ever since.
"As a refugee, I face many challenges and limitations that I need to overcome," he said.  "No work permit, limited freedom of movement, and an uncertain, unclear future." Early on, Innocent resolved to make the most of his "fragile situation," gaining hands-on experience from various roles in Kakuma and furthering his education through MITx courses.   
Advancing Knowledge — and Being Part of the Solution
With the support of the University of Geneva-InZone, Innocent is currently pursuing an academic credential from MIT as part of a select group of learners enrolled in the MIT Refugee Action Hub (ReACT) track of the MITx Data, Economics, and Development Policy (DEDP) MicroMasters program. Launched by ReACT in partnership with the Abdul Latif Jameel Poverty Action Lab (J-PAL), the program offers refugee learners the opportunity to advance their education and professional careers by combining online learning and in-person workshops with internships in the development field.
Through a series of five online courses, the DEDP MicroMasters Program provides learners with the skills and knowledge to tackle some of the most pressing challenges currently affecting developing countries and the world's poor.
Innocent cites the impact of these challenges on his own life as his motivation to enroll in the ReACT track of the DEDP Micromasters Program. As he's advanced through the program, much of what he has learned has provided a base of knowledge that he hopes to give back to his refugee community.
"At the start of the program, I had the goal to advance my study and to learn about development policy," Innocent said. "I keep identifying myself, my community, my country, my continent, and the world" in these case studies.
The DEDP Micromasters Program has empowered Innocent to "be part of the solution" to a situation that he and "millions of refugees and the poor around the world" understand all too well.
"I'm transitioning from an ordinary observer to a critical player to my situation," Innocent said. Indeed, the program has already begun to impact his life in tangible ways.
Giving Back to Kakuma Camp
In 2017, Innocent co-founded the social enterprise Kakuma Ventures, a logistics platform enabling African refugees to become entrepreneurs. But "without a critical understanding of the different policies governing the system in humanitarian and emergency contexts," the social enterprise struggled to take shape.
With the skills and knowledge he's gained from MITx courses like "The Challenges of Global Poverty" and "Foundations of Development Policy," Innocent is now strategizing to advance his social startup's "mission to build sustainable businesses that create jobs, generate income and provide access to essential goods and services" to the Kakuma camp.  
Before coming to Kenya, Innocent studied electrical engineering at the Institut Supérieur des Techniques Appliquées de Goma.
Today, in addition to developing Kakuma Ventures, he's also a data science student. From November 2018 to January 2019, Innocent contributed as an enumerator to the World Bank and UNHCR's social-economic study in the refugee settlement of Kalobeyei, which is roughly 12 miles from Kakuma.
Once he completes the DEDP MicroMasters program, Innocent plans to pursue the MIT MicroMasters credential in supply chain management, bringing with him many years of hands-on experience and hard-won knowledge.