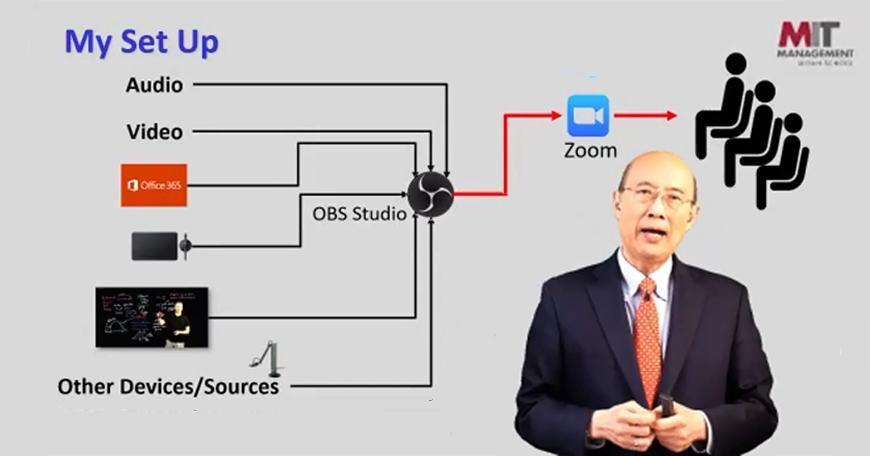 Professor Andrew Lo Shares a Journey in Virtual Teaching
By Kevin Shao, MIT '23
There are so many phrases that I'll never hear the same way again:
"Can you hear me now?"
"Sorry, my Wi-Fi is bad today."
"Can you see my screen?"
And like many of my classmates, any of these phrases instantly remind me of the pains that come with virtual learning, from squinting at nearly postage stamp-sized videos of professors to horribly awkward lags in lecture when none of 200 students want to answer a question. For students and professors alike, the innumerable snags and annoyances that arise over Zoom and other virtual platforms accumulate to seem almost insurmountable.
However, in his xTalk on April 15, Professor of Finance Andrew Lo offered his insight into his journey of experiencing, grappling with, and ultimately overcoming the unique difficulties raised by distance learning. He began with a striking side-by-side comparison of two lectures he gave: the first was given in-person, with Lo dynamically moving around the room, engaging students both individually and as a whole. The second was one of his first virtual lectures, given in basic Zoom setup, with a slideshow on screen and a tiny video thumbnail in the corner. "That's painful to watch. I know, I don't want to more of it either," commented Lo humorously.
Whereas students often chalk up poor Zoom lectures to the inherent awkwardness of the platform, Lo clearly articulated the various aspects that could be improved. In seeking to enhance his students' virtual experience, Lo discovered a demonstration given by Professor Sean Willems from the University of Tennessee, where Willems walked through his virtual teaching setup, which involved multiple "scenes", from a slideshow presentation to a "weatherman" style scene to a lightboard scene. Upon seeing this, Lo said: "That's what I want. I want to do that." In a classically academic collaboration, Willems guided Lo in creating Lo's own dynamic, seamless virtual teaching setup, which is exactly how Lo's xTalk itself was given.
During the xTalk, Lo outlined critical ways that his virtual classroom actually exceeded the functionality of a face-to-face one. His online class sessions, facilitated by a myriad of technological innovations and improvements, allowed his students more access to efficiently connecting with each other, greater exposure to guest lecturers and industry leaders, as well as greater access to interacting with those leaders. All of these would have been difficult to accomplish in a traditional classroom.
With optimist hopes of a return-to-normal in the fall term, students and professors alike are excited to return to the classroom, and Professor Lo is no exception. However, armed with his new insights in virtual teaching, Lo entertained an ambitious question: could online classes even dominate live ones? In approaching this, Lo drew from a couple seemingly unlikely sources: the movie and video game industries, both of which are deeply invested in making the virtual better than reality. Specifically, Lo turned his attention to Twitch streaming, a very new video game streaming platform that has drawn a massive user base. Breaking down the reasons for its unique engagement, Lo asserted that to accomplish the tall task of improving on live lecture, we would have to emulate the most engaging aspects of streaming in the classroom.
Professor Lo ended by recapping the main takeaways of the xTalk and providing a few ideas about how virtual and even in-person teaching could be improved. From a student perspective, I gained a new admiration for just how much effort professors pour into making learning a smooth, streamlined, pleasant experience. Professor Lo's energy and enthusiasm for teaching will certainly become a silver lining for me as I fire up Zoom tomorrow, ready for another day in the life of the COVID-19 pandemic.
Kevin Shao '23, is a second year student at MIT.
Originally published at https://openlearning.mit.edu on April 18, 2021.
---
Professor Andrew Lo Shares a Journey in Virtual Teaching was originally published in MIT Open Learning on Medium, where people are continuing the conversation by highlighting and responding to this story.