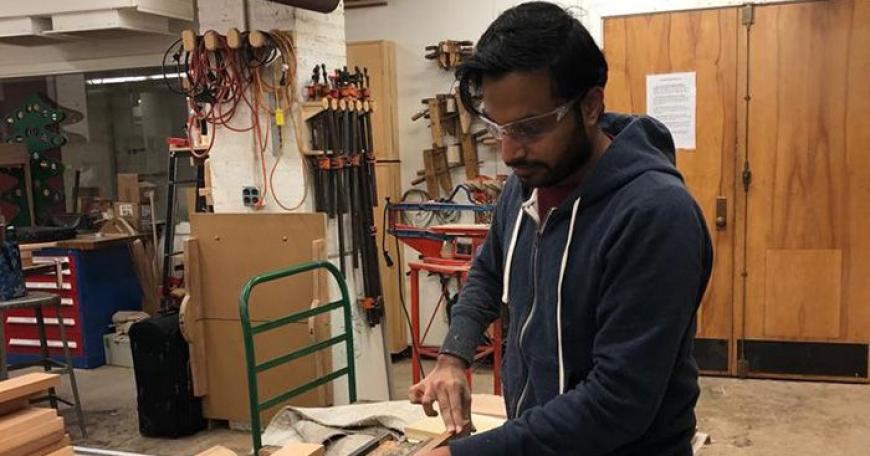 A road paved with open learning
After graduating from college in India, Samip Jain spent three years of evenings learning online, taking courses on web development, data analysis, music theory — anything that sated his appetite to learn ... all while working full-time as a software developer for a health care startup.
"Every night, I would learn something new," he says. "I never want to stop learning and thinking beyond my limits."
Now a graduate student in the Integrated Design and Management (IDM) program, Jain is taking a more focused approach. The residential program, which brings together the fields of engineering, management, and design, has proved to be the perfect fit for someone who has always been drawn to making things and to starting new business ventures. Moreover, he's taking advantage of being campus-bound, participating in several hackathons, and, as part of a class project and with two of his IDM classmates, developing and honing Savor, a playful spice set that brings families and friends together at the dinner table.
His relationship with MIT, however, goes all the way back to his high school years. As a young student in India, he struggled to learn about circuits and electronics in science class. Then a senior classmate told him about MIT OpenCourseWare (OCW).  
"I was asking my senior classmates, 'can you teach me this stuff?' and one of them told me about online videos from MIT," he says. "It helped me to learn the concepts. I thought, at least I can learn from what they are putting online. At the time, I never thought that I'd end up here."
With these educational opportunities at his fingertips, Jain said that OCW opened up a new academic world for him — and it turned out that it was just the start of what MIT's commitment to extending educational opportunities beyond the boundaries of campus would do for him.
In his senior year of college, Jain and a friend launched their first startup. They had been designing crafts in their spare time, and they wanted a way to sell their creations online. They had also heard from other small business owners in India who were struggling to reach customers outside their local community, and Jain wanted to find a way to help them.
The business, Pikachoo, was modeled after Etsy. The platform provided an easy-to-use, online marketplace for people in India doing creative work who wanted to reach more customers. Pikachoo helped them to find customers to sell their products to.
But within a month, the business wasn't getting much traction, so Jain turned to MIT's massive open online courses, offered through MITx, for help.
"I rushed through a course on entrepreneurship, and we tried changing a few things to see if we could reach out to customers more efficiently," he says. "It was working."
Then, an email arrived that captured Jain's interest. MIT Bootcamps would soon bring together aspiring entrepreneurs from all over the world for an intense week of learning from some of the greatest business minds associated with MIT.
Jain applied and was accepted, making his way to Cambridge for the first time in August 2015. The experience of connecting with 60 other people from 30 different countries — everyone drawn to the startup life — he says, was life changing.
"The inspiring and motivational factor for me was the community we created through Bootcamp, which felt like another family to me," Jain says. "To learn from them, and to learn from the amazing coaches … We were all in it together."
After the Bootcamp experience, he knew that he wanted to come back to MIT for graduate school. "If I was going to do a master's, MIT was where I needed to be," he says. Having already applied to a short list of schools, Jain decided to start over and apply to IDM.
"IDM is a sort of a short entrepreneurship journey," he says. "You start with a problem statement, go into user research, concept generation, and then you start making prototypes and eventually create a viable business." The program philosophy mirrors his own educational journey: self-motivated, self-created, and entrepreneurial.
Even as a full-time grad student, Jain still engages with MIT online learning materials.
"When I'm taking a class and want to learn about something I don't know much about, I go straight to OCW or MITx. Having all those courses online is really helpful."