News from Residential Education at Open Learning: Vol. 4, Issue 2, Feb 11, 2020.
---
In this issue:
---
Thursday Feb 13: xTalk with Nataliya Kosmyna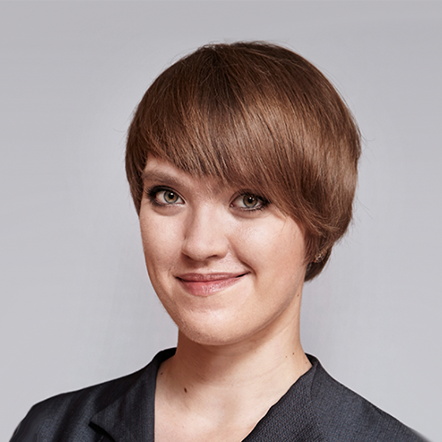 Lessons Learned from Using Physiological Sensing in Learning Environments
Thursday Feb 13, 3-4 pm 3-270
Given our never-ending connection to the Internet, it is no surprise many of us suffer from low attention spans, cognitive overload, and more. Dr Nataliya Kosmyna will present a novel platform to help tackle these problems in a real-world scenario of a learning environment. AttentivU smart glasses measure physiological data: brain activity using Electroencephalography (EEG) and eye movements using Electrooculography (EOG). Kosmyna will share some results and challenges of such projects as well as discuss ethical concerns related to using physiological data and possible future use cases.
Dr Kosmyna is a Post-Doctoral Associate in the MIT Media Lab and an MITili grantee.
---
Festival of Learning Urges Growth, Diversity, Ethics in STEM Ed
The 4th annual Festival of Learning, hosted by MIT Open Learning and the Office of the Vice Chancellor, featured talks, panels, workshops, and immersive experiences centered around moral and ethical issues related to STEM education, equity, social justice, and the climate crisis.
Beginning with a tribute to one of MIT's most beloved professors Woodie Flowers, former student Zach Roflness and faculty members Dawn Wendell and David Wallace highlighted Prof Flower's love of both rigorous scientific study and the joy of inspiring young people to become engineers. A film tribute to Flowers celebrated his life and work.
The Festival's keynote featured Purdue Engineering Education Professor Alice Pawley. Challenging STEM educators to look into social and moral issues, Pawley's talk provided a springboard for a faculty panel with professors Susan Silbey, David McGee and Janelle Knox-Hayes. MIT students Isy Osubor, Sophia Fang, and Kevin Shao shared reflections in blogs.
The Festival also hosted a community lunch and expo with 30 MIT participants.
In the afternoon, Anindya Roy, Kate Trimble and Curt Newton & Sarah Meyers held workshops.
If you missed the Festival:
Woodie Flowers Tribute (video, student reflection)
Alice Pawley Keynote (video, student reflection)
Faculty Panel (video, student reflection)
Prof Michel DeGraff offers reflections on Pawley's keynote (video)
Tour the Festival Expo with Media Manager Lana Scott (video)
---
Meet the Residential Team: Aaron Kessler
Senior Learning Scientist Aaron Kessler was recently profiled in a Q&A with MIT Integrated Learning Initiative Program Manager Steve Nelson. The interview provides an opportunity to learn about Aaron's work, research, and more.
---
Residential MITx by the Numbers
Total Active Enrollment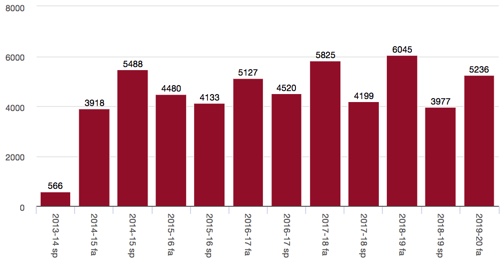 Number of Courses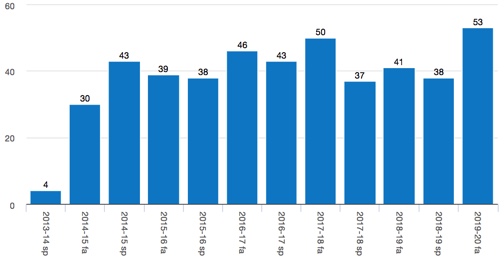 ---
Innovations in Residential Education
As the Spring semester begins, Open Learning's collection of Residential Digital Innovations is an informational resource for discovering innovative ways to teach at MIT. Searchable by department or tool/strategy, the collection offers detailed and specific information about faculty teaching innovations at MIT.
---
J-WEL Workshop March 4 - Human Skills: From Conversations to Convergence